Huayna Picchu Mountain Information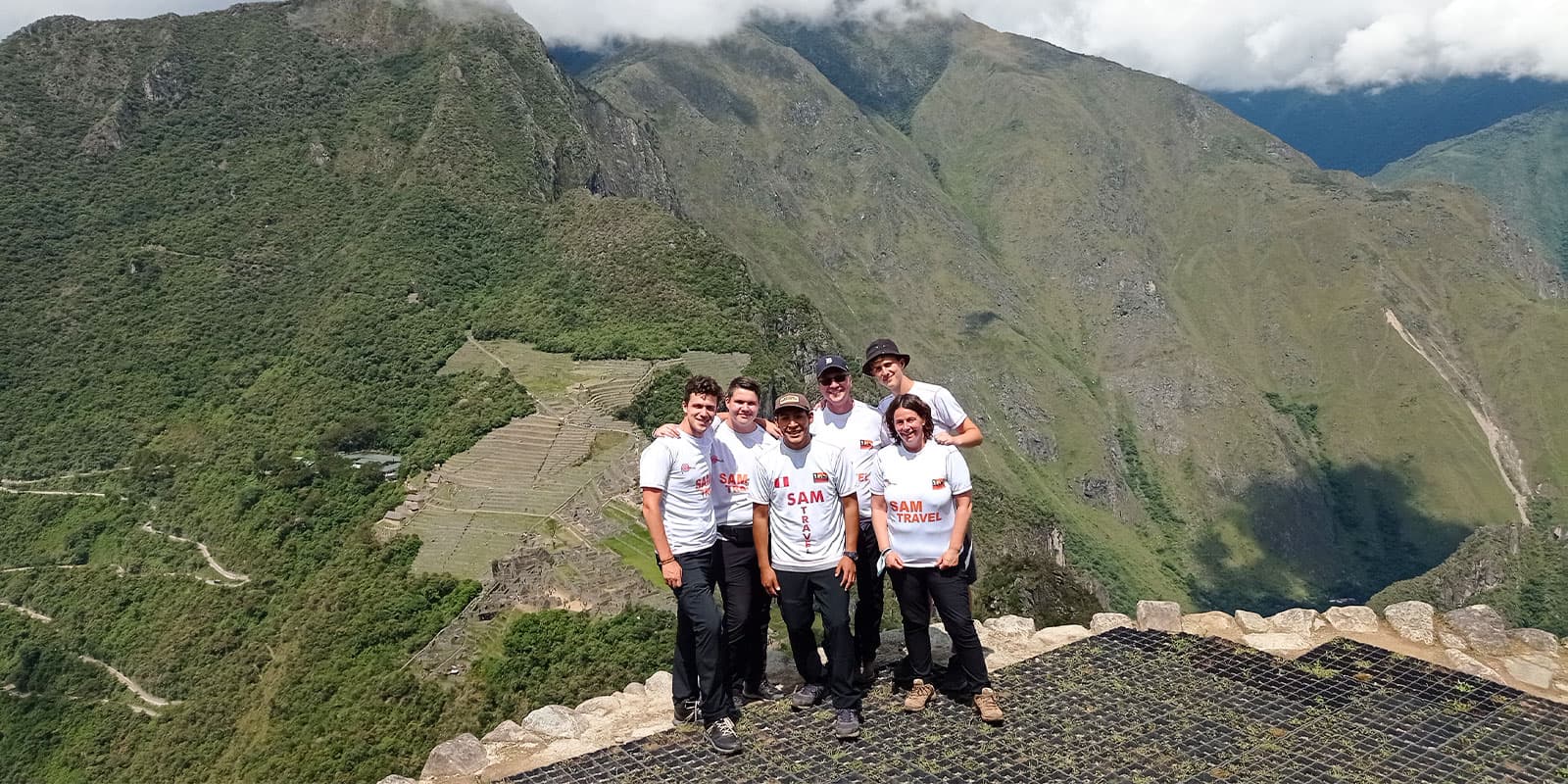 Enjoy the amazing experience of the Incan Citadel of Machu Picchu and its surrounding lush canyon from varied angled outlooks like: Huayna Picchu Mountain, the Sun Gate, Machu Picchu Mountain, Llactapata Incan ruins, Putukusi Mountain and the Incan bridge section.
Those who are doing the Inca Trail will see Machu Picchu for the first time from the Sun Gate, which is one of the classic highlights of why people choose the Inca Trail trek.   Those doing alternative treks, arrive to Aguas Calientes, spend the night in a hotel and take the bus to Machu Picchu citadel at 5:30am to enjoy the sunrise.
HUAYNA PICCHU MOUNTAIN INFORMATION
Huayna Picchu, which translated from Quechua means Young Mountain, is located at (2,667m/8,750ft) above sea level and is part of the Andean foothills. Huayna Picchu is well -known for being part of the vast majority of the panoramic photos of Machu Picchu. At Huayna Picchu, you may see some archaeological sites, including the Temple of the Moon built in a natural cave. At the top of Huayna Picchu, there are small terraces and some buildings that were a part of an astronomical observatory and is a point of guardianship to the citadel.
PLEASE NOTE:
***The climb to Huayna Picchu is steep and can be slippery, when wet. Please evaluate your ability to climb it before booking.
***This is an optional hike within Machu Picchu citadel that does not ever include a guide. The climb is usually done on your own after touring Machu Picchu citadel.
***You must always respect the scheduled entrance times between 7 to 8am, 9 to 10 or 10 to 11am. If you arrive 5 minutes late, you will not be allowed to enter!
ARE THE ENTRANCE TICKETS LIMITED?
Yes! It's limited to 400 hikers a day, so you will need to book the extra hike in advance and coordinate your arrival to this World Wonder early. At least 2 to 3 months in advance. We will purchase the permit for you as part of your trek, if tickets are available.
Why Hike an Extra Mountain at Machu Picchu?
Let's start by answering this question that so many people have. They want to know if it's really worth it to exert yourself even more physically. We would say it's more than worth the effort, and here's why.
You get a fantastic view across the whole archeological site as well as the surrounding beautiful hills and valleys.
It gives you an extra sense of achievement and will be something to remember for a lifetime.
You'll likely only visit Machu Picchu once, maybe twice, in your life, so why not make the most of it?
You get to see parts of the citadel you wouldn't see otherwise.
There are some fantastic photo opportunities on top of the mountains.
Schedules for hiking up to Huayna Picchu:
First timeslot: 7 – 8 AM
Second timeslot: 8 – 9 AM
Third: 9 to 10am
Forth: 10 to 11am
***This is the time you start the hike. It takes approximately 45 minutes to reach the top, take some photos and hike 45 minutes down.
PRICES
The average price for Huayna Picchu will around $75 if you book through a company, and if you by directly, it will be less and for it visit www.machupicchu.gob.pe
Huayna Picchu Mountain Information or Facts
Now you know a little more about the mountain in general, let's delve into the facts so you can compare it to Machu Picchu Mountain.
The altitude of the mountain is 2,720 masl.
The distance is 2km of steep and narrow paths.
It's only for hikers 12 years and over.
It's located to the north of the Inca citadel.
The trail can seem a little scary and daunting due to steep climbs and the need to use ropes and
bridges to cross some parts.
You'll have to pass through the Sector de las Huayranas (Sacred Rock) to get to the entrance to the
hike where you show your ticket.
Only 400 tickets are available each day and it can be done only in the morning.
The hike is relatively high in difficulty due to the steepness, many steps, and sheer drop to the side.
The walk up and down is around two and a half hours.
You can see the archaeological sites of Andenería and the Temple of the Moon.