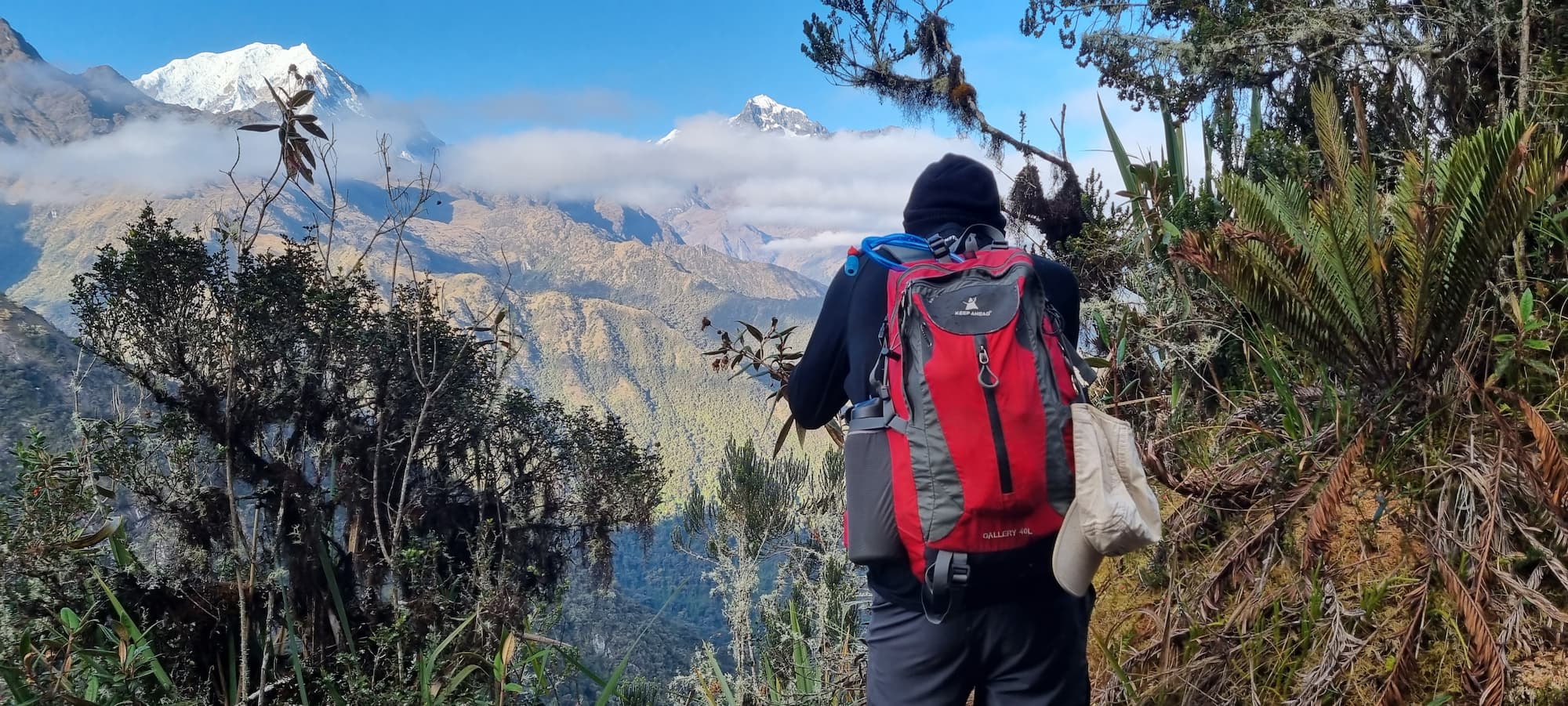 Inca Trail to Machu Picchu 2D/1N
Overview
This is the perfect itinerary for those who want to walk the Inca Trail to Machu Picchu, but who are short on time or who prefer hotels to camping. Highlights on the 2-day Inca Trail to Machu Picchu include the stunning Inca ruins, snow-capped mountain peaks, primitive lush vegetation and extraordinary ecological varieties. "The Ancient Inca Road" goes through the National Park and enters through the Sun Gate providing you with unforgettable views of Machu Picchu. You will pass exotic cloud forest and enter into subtropical vegetation. People hiking the short Inca Trail have the privilege of visiting the famous Machu Picchu Citadel twice: first, the view from above at the end of their hike, and again when they return to Machu Picchu the following morning to catch the sunrise.
from $650 USD per Traveller
Max. Altitude:

2730 m.s.n.m

Group Size:

5 m.s.n.m

Physical Level:

3

Activities:

Trekking, Culture and adventure
Itinerary
DAY 1: CUSCO – KM104 – WIÑAY HUAYNA – SUN GATE – MACHU PICCHU
Our exciting day begins with your hotel pick up at 5:00am in our private van. Then, we drive towards the Ollantaytambo train station to catch the 7:05am Vistadome train.  After an hour and ten minutes, we disembark at KM 104 (elevation 2,100m/6,927ft). This is where our trek begins! Once at the checkpoint take the opportunity to use the restrooms, apply insect repellent and sunscreen, pack your picnic lunch, purchase extra snacks and fill up on water. This is the only 2 day INCA TRAIL TREK that includes an extra porter for your backpacks to Machu Picchu. The first Archeological site you get to see is just a minute outside the checkpoint. Learn the history and thriving culture of the Incas from a 100% authentic and knowledgeable Peruvian guide. The trek passes by flora and fauna unique to the Inca trail, with its vivid and radiant colors. You will pass a small waterfall with its waters cascading into the rocks. Now take the moderate climb up to the chiseled remnants and remote archaeological site of Wiñayhuana, (2,650m/8747 ft). The views from this point are absolutely spectacular. You should be thrilled with your achievement so far. Your scrumptious picnic lunch is a quinoa salad complete with beef, chicken or vegetarian options. After being at one with this impressive sight, we will continue towards the Sun Gate (2,730m/9,007ft). Following this remote ancient Inca trail, we get our first stunning view of Machu Picchu in all its radiance and majesty. As we trek closer towards this Inca citadel, you will have plenty of opportunities to take stunning photos. At around 4pm, you make your way down the winding roads of Machu Picchu by bus to the quaint town of Aguas Calientes. Browse the many local flea markets in town, enjoy the walkability of the coble stone streets and have a delicious dinner at a local restaurant before retiring for the night.
Note :
Meals included: Picnic lunch & restaurant dinner
4* Accommodation: El Mapi
Difficulty: Moderate

DAY 2: AGUAS CALIENTES – MACHU PICCHU – CUSCO
Today, you will get to enjoy exploring Machu Picchu and experience the organic energy radiating from this new 7th Wonder of the World and UNESCO World Cultural Heritage site. You will take the first bus at 5:30AM to Machu Picchu. It is from this Inca site, that you will get to see the sunrise.
Your guide will escort you through the alluring Inca ruins and its impressive main streets. Then, on your own, wonder around the town square of the world's spiritual center of esoteric wisdom, as well as climb the intricately carved stone stairways. Stand still and take in the splendor of its presence and enjoy the pure bliss of the moment.
Afterwards, you return to Aguas Calientes and board the Vistadome train at 4:43pm to Cusco.
Here are a few extra activities that you may wish to indulge in on your own:
Climb up Huayna Picchu or Machu Picchu Mountain and enjoy the beauty and magnificence of Machu Picchu citadel from above(not included in your tour price and must be booked in advance.)
Other optional activities in Aguas Calientes include: a visit to the local museum or the hot springs (entrance fees required)

Inclusions
WHAT IS INCLUDED?
Hotel pick up
Private transport to and from Cusco
3 Bus tickets from Aguas Calientes to Machu Picchu
English speaking professional guide experienced in trekking
Private guided tour of Machu Picchu
Vistadome Train from Ollantaytambo to KM 104 – Aguas Calientes – Ollantaytambo
Entrance Tickets for the Inca Trail and Machu Picchu Archeological site
One night accommodation in Aguas Calientes (4* service)
First-aid kit including emergency oxygen tank
Taxes
WHAT IS NOT INCLUDED?
Wayna Picchu Mountain: $75 USD
Machu Picchu Mountain: $75 USD
First breakfast (served in your hotel), last lunch at Machu Picchu
OPTIONAL UPGRADES: hotel or train
Hiram Bingham Train: $397 USD per person
Tips for the staff (Glamping Peru Treks staff receives a fair and decent wage for their amazing work. Tips are optional but the staff do appreciated it a lot.)
Price and Availability
The Short Inca Trail to Machu Picchu is available on any day that suits your schedule -as long as we have a minimum of 2 participants!
PRICES
from: $577 USD per person
EXTRAS
Huayna Picchu Mountain: $75 USD per person
Machu Picchu Mountain: $75 USD per person
*** The Short Inca Trail to Machu Picchu is available year round except when it is closed in February for maintenance. — This trek takes you into Machu Picchu by walking through the SUN GATE like in ancient times, you will explore some amazing Incan ruins along the way like the Wiñay Wayna Inca site.
CHECK YOUR 2 DAY INCA TRAIL TREK AVAILABILITY BY CLICKING ON MONTH OF YOUR CHOICE!
S
a
m
T
r
a
v
e
l
P
e
r
u
Why Glamping treks
WHY CHOOSE GLAMPING PERU TREKS
Glamping Peru Treks is a family owned travel agency and a direct local tour operator based in Cusco with personal experience from over many years of trekking. Glamping Peru Treks is a 100% Cusqueñian Company without any shareholders.
Our dream as a locally based company is to create small personalized tours & treks strictly operated by local professional staff catering in PERSONALIZED and HIGH QUALITY SERVICE.
We take pride in our reputation as a RESPONSIBLE & SUSTAINABLE tour operator. Our staff are our extended family! We ensure they are supported financially by paying them a fair salary. We are proud of our team, without them we wouldn't be able to offer the best service and lifetime experiences to our clients.
SMALL GROUPS
In an effort to provide a more personalized service, we at Glamping Peru Treks have a policy that our groups will not exceed 8 people. This fact alone, sets us apart from other companies that operate with bigger groups. Of course, if you are traveling in a group of family or friends of more than 8, we will keep you together in your own private trek.
OUR TOUR GUIDES
We are very proud of our guides! They are highly professional, fluent in English and very knowledgeable about Inca history and heritage. You will learn about recognized theories in Inca and Andean culture. They are fun loving, with a great sense of humor and well-educated. Our guides hold degrees in at least one of the following: Archaeology, Botany, History or Anthropology.
OUR SERVICE PROJECTS
Glamping Peru Treks has always believed that we should give back to the local communities. Therefore, as part of our commitment to responsible tourism, we socially support and employ from these communities.
Glamping Peru Treks is proud to be able to support these amazing people, not only by hiring them to become part of our team but also going back to our grassroots and getting personally involved in our community outreach programs. Our community outreach programs include sharing our knowledge of the industry, sponsoring trips to Machu Picchu, food and supplies, as well as profit sharing with our employees´ families. We feel this holistic approach with our employees and their families is conducive to long term growth!
Important Info
Please read the following information carefully, as it will help answer most of your questions about our services and the Short Inca Trail to Machu Picchu.
ARRIVAL IN CUSCO
We will welcome you at the airport in Cusco and take you to your hotel. Please ensure that you inform us of your flight details at least 14 days prior to your trek. Look for our representative holding a board stating: GLAMPING PERU TREKS at the arrivals terminal. You must exit the terminal in order to find our representative waiting outside.
THE BRIEFING
Your briefing will take place the night before your trek at the comfort of your hotel.
CAN I STORE MY LUGGAGE AT YOUR OFFICE?
Of course! During the Short Inca Trail to Machu Picchu, your main luggage can be stored in our office or at your hotel, whichever is more convenient for you.
HOW TO BOOK:
FIRST, to book your Inca Trail trek, we need you to fill out our booking form by clicking on BOOK NOW on our homepage or click this link BOOK NOW.
Please be ready with the following information (FROM EACH PARTICIPANT in your group). We cannot purchase an Inca Trail permit without the following information:
Personal information (your full name, exactly as it appears on your passport):
Gender
Passport number
D.O.B. (dd / mm / yyyy)
Nationality
SECOND, we require a deposit of $316.00 USD per person in order to secure your departure. You can make your deposit by clicking on the VISA or PAYPAL symbols on the top of our home page or booking page.
WHAT ABOUT MY REMAINING BALANCE?
To avoid the excessive credit card fees in Peru, you can pay in cash at our office (we accept US dollars or Peruvian soles) in Cusco. We have many ATMs within the historical center to withdraw money. You can also pay by VISA or PAYPAL online but there is a 5.5% service charge, charged by VISA and PAYPAL. To pay your balance through PAYPAL, you need to log into your PAYPAL account and use our email address glampingperutreks@gmail.com to complete the payment.
MAY I CHANGE THE DEPARTURE DATE AFTER THE TICKETS HAVE BEEN BOUGHT?
Unfortunately, the answer is No. Once the permits/tickets have been bought, the Peruvian government does not allow any changes. We can't change any departure date after the permit/ticket has been paid for. Permits/Tickets are also not transferable or refundable.
*** If you cancel your Inca Trail Trek to Machu Picchu, the deposit is non-refundable!
DO I NEED MY ORIGINAL PASSPORT ON THE 2 DAY INCA TRAIL TO MACHU PICCHU?
Yes! You have to bring your original passport as it is very important, in order, to gain entry onto the Inca Trail to Machu Picchu and other sites. You must provide the same passport that you used to book with us from the start.
In case, you are renewing your passport or changing your name, send us your old passport information to secure your permit and we can change it when you get your new passport or have updated your name for a fee of $25 USD per person. We must have a copy of your old and new passport to make this change.
If you do not wish to pay this fee, you will need to bring both your old and new passports with you. You can enter Peru with your new passport but you will need to show both old and new passports to enter Machu Picchu and other sites. If you do not have both, you will not be allowed to enter these amazing sites.
TIPPING
If you're happy with the services provided, a tip – though not compulsory – is appreciated. While it may not be customary in your country, it's of great significance for the people who will take care of you during the trek. It inspires excellent service and is an entrenched feature of the tourism industry. Of course, you are free to tip as much as you think is appropriate, depending on your perception on the quality of service and the length of your trip. Remember, a tip is not compulsory and should only be given when you receive excellent service.
ARE YOU SUSTAINABLE?
Yes, we are a local sustainable & responsible tourism operator that incorporates universal principles of tourism: protect the environment and benefit the local communities by respecting their culture and religion. With this in mind, we have trained all our staff to know, understand and respect the local places and its people.
Packing List
The Short Inca Trail to Machu Picchu DOES INCLUDE an extra porter so you will have to carry all of your things in a daypack. Please try to pack as light as possible, which is the key to enjoying this amazing trek.
Original passport (it has to be the same as the one used when booking your trek)
Good daypack (25 to 30L)
Reusable water bottles 2-3L (we encourage Camelbaks).
Comfortable hiking boots with ankle support
Polar fleece or sweater for early mornings and evenings
Jacket- if cold season / rain jacket in rainy season
Toilet paper
Hand sanitizer
Sun Hat
Sunscreen
Wool hat – if cold season
Snacks (chocolate bars, cereal bars or any dry fruits)
Rain plastic poncho
Camera
Any medications you need during the day
Extra money for souvenirs, drinks & tips
What to leave in your small luggage that will be delivered to Aguas Calientes by train.
Clothes for visiting Machu Picchu the second day
Personal toiletries
Personal medication
WHY BOOK A TRIP WITH US?
Expert guides

All of our guides are experts in trekking and hold degrees related to tourism. They are passionate about their career and love to show others about their culture!

Small Groups & Big Adventures

We specialize in providing our treks and tours with small groups. It helps create a more unique and personalized experience!

Our Experience

We have more than 6 years experience, in providing high quality service. We are considered one of the few operators that most clients trust.

Fantastic meals

All of our chefs prepare gourmet meals catering to different dietary needs. This sets us apart from other companies.

.

Environmental Sensitivity

As one of the few tour operators that dedicated itself to social responsibility. We are always looking for innovative ways of caring for our natural surroundings.

Camping Equipment

Our camping equipment is top of the line being replaced when needed. Our camping equipment is available for rent as well.
Similar tours that you may like