Detailed Itinerary
Additional Tour Information
WHAT IS INCLUDED FOR THE INCA QUARRY TRAIL TO MACHU PICCHU?
hand-crafted and fully personalized Premium Package from start to finish.
Briefing: We give you all the information needed in order for you to have a pleasant trek with very little surprises. The best part is that we will conduct your briefing in the comfort of your hotel.
Duffel bag: During your briefing we provide a duffel bag for you to pack your clothing and other necessities for the trek. The porters will carry your duffel bag and you will only have excess to it at the end of each trekking day. We recommend that you carry a 30L backpack for your daily personal belongings such as a warm jacket, a rain jacket, your camera, sunscreen, snacks, water, etc.
First aid and Emergency Oxygen Tank: Your safety is our number one priority. For this reason, our guides are CPR and First Aid trained annually by the Fire department or Red Cross. If you get one of the worst symptoms for altitude sickness which is loss of oxygen, we do carry an oxygen tank so you can get immediate assistance. We are also prepared for minor injuries on the trek, we administer quick and effective treatment, so you can continue with your trekking.
Satellite phone: We use a Satellite phone on all our treks that are 3 days or more. Each guide carries a phone that is fully charged and ready to use. In extreme cases, whereby you experience serious health issues, we can call emergency services immediately. We get you to the nearest town for medical assistance or transportation. If your condition is urgent and you need to be airlifted to a hospital, this can also be arranged. The trekker is liable for all medical costs incurred, including the airlift (travel insurance is essential). On the lighter side. Our satellite phone can be used to touch base at home or to give a loud shout from the top of the Andes. All personal calls will cost you US$2.00 per minute.
Door to door service: The day of your trek we will pick you up at your hotel in Cusco. On return we will drop off at your hotel in Cusco.
Separated private transportation: Our staff members and camping equipment travel in a separate van. You, your guide and fellow travelers travel in total peace and privacy.
Bus tickets and Train Tickets: After your privately guided tour of Machu Picchu,we include a bus ticket to the nearby town of Aguas Calientes, to catch the Train to Ollantaytambo. Glamping Peru also includes the spectacular Vistadome train with leather seats designed to conform to your body. This train has the best views of valley, mountains and river decorating the landscape as you make your way back to Ollantaytambo.
Entrance Tickets into Machu Picchu : As soon as you confirm your booking and pay the deposit, we purchase your entrance ticket into Machu Picchu. These tickets sell out very fast. Our super team behind the laptops ensure that all tickets are purchased timeously and you don't miss out on your great adventure. The personal information you give us has to be 100% accurate because even our awesome team won´t be able help edit details once they have purchased the tickets on your behalf and there are absolutely no refunds on the tickets.
Professional Bilingual Guide: You will have a guide thats highly professional, experienced and fluent in English throughout the trek. They are very knowledgeable and passionate about Inca heritage and history. You will get a two hour fully guided tour of Machu Picchu. Our guides dedicate themselves to continuous professional development and growth to ensure that you receive accurate and recognized theories about Inca and Andean culture. They are fun loving, great sportsmen and well–educated, they hold a degree in at least one of the following: Archaeology, Tourism, Botany, History or Anthropology.
Horseman and mules:To carry all camping and personal equipment (7 kgs of your personal items such as extra clothes, air mattress and sleeping bag will be carried by our mules).
Emergency horse: In case of emergency, we have the provisions of an extra horse. This is to ensure that everyone in the group has an equal opportunity to complete the trek.
Meals: We have yet to receive a complaint about the food or any of our chefs. Your private chef provides delectable meals throughout your trek: 3 hot breakfasts and 1 provided by your hotel. 3 lunches and finally 3 dinners. The guide wakes you every morning with a hot drink, making everyday a good day on the trek. We also include afternoon tea with a small snack before dinner, which is equally impressive. Our chefs take pride in all dishes served. Our chef and horseman work in tandem, so that when you arrive at camp everything is set and ready to go. We also provide a variety of non-alcoholic and alcoholic drinks. Drinks like Maracuya or Chicha Morada, Pisco Sour Cocktail or a good selection of beers and wines.
Water: We supply bottled water for drinking every day after meal time. Make sure you fill up your canteen or camel bac on the first day.
Taxes: All prices include the 18% tax charged by the government
Luxury Amenities and Equipment:
Luxury Accommodation: We book 1 night for you at the magical El Mapi in Augas Calientes.
Hot Shower Tent with Towels: We supply a hot shower to clean up after every trekking day with complimentary towels.
Robe and slippers. we provide not 1 but two robes, one silk and the othe cotton, as well as slippers. We want you to feel like you are staying in a luxurious hotel, instead of the great outdoors.
Private Chef, chef´s assistant and waiter: If you have any dietary restrictions or allergies, please let us know at booking and we will gladly accommodate your needs. You will receive upscaling dining, with a waiter to cater to your needs.
Dining tent and chairs: We provide a private communal style dining tent, to catch up on the day's events and build some comradery with your fellow travelers. Eureka Copper Canyon, Kingcamp KC 2808 chairs.
Utensils: You will dine using Porcelain or ceramic crockery, glassware and unique stone or wood plates.
Bedroom tent. Included are sleeping bags, Therma rest Mattress, cotton sheets, blankets and pillows Eureka Copper Canyon (maximum 2 pax). Tuck yourself in-between crisp white linen for the best night sleep off the beaten trek.
Specialized massage therapists: We have massage therapist to accompany you on the Classic Inca Trsiland it is at your disposal every evening when required. This is at no charge to you and another complimentary service from Glamping Peru.
Portable chemical toilet: This is very important while trekking because the Government toilets can be less then sanitary. We set up our clean waste toilet system a comfortable distance from camp and it has its own private tent.
Travel bag: This is a small complimentary bag, with travel size shampoo, conditioner and soap.
WHAT IS NOT INCLUDED FOR THE INCA QUARRY TRAIL TO MACHU PICCHU?
Breakfast on the first day, lunch & dinner on the last day
Walking Poles: $20 USD per pair per trek (Professional poles that can be extended)
Huayna Picchu Mountain and Machu Picchu  Mountain: $85 USD per person (Please request when you book your Trek)
Tips for the guide, cook and horsemen of GLAMPING TREKS PERU
OPTIONAL UPGRADES: Hotel or Train
Hiram Bingham Train: prices vary
Additional Night in hotel in Aguas Calientes – From: $200 USD (depending on choice and availability)
PRICE
$2,197 USD per person
Personal porter included!
This price includes the extra pack horse which will carry your belongings up to 8 kgs. We will provide a duffel bag that you can put your things in.
*** This price also includes 1 night accomodation in a 4* hotel and 2 nights of Glamping.
Please read the following information carefully; it will help with your questions about our services and the Inca Quarry Trail to Machu Picchu.
ARRIVAL TO CUSCO
We will greet you at the airport in Cusco and take you to your hotel. Please ensure that you inform us of your flight details at least 14 days prior to your trek's start. Look for our representative holding a board for Glamping Peru Treks at the arrivals terminal.
THE BRIEFING
Your briefing will take place in the comfort of your hotel the night before your trek.
CAN I STORE MY LUGGAGE AT YOUR OFFICE?
Of course! During the Inca Quarry trail to Machu Picchu, your main luggage can be stored at our office or at your hotel, whichever is more convenient for you.
HOW TO BOOK THE INCA QUARRY TO MACHU PICCHU TREK
FIRST, to book your The Inca Quarry Trail Trek, we need you to fill out our booking form by clicking on BOOK NOW on our homepage or click the link BOOK NOW.
Please be ready with the following information (FROM EACH PARTICIPANT in your group). We cannot purchase an Inca Quarry Trail to Machu Picchu permit without the following information:
Personal information (your full name, exactly as it appears on your passport):
Gender
Passport number
D.O.B. (dd / mm / yyyy)
Nationality
SECOND, we require a deposit of $525.00 USD per person in order to purchase your entrance to Machu Picchu and train tickets. You can make your deposit by clicking on the VISA or PAYPAL symbols on the top of our home page, or you can click on the VISAor PAYPAL symbols on our booking page.
WHAT ABOUT THE BALANCE?
To avoid the excessive credit card fees in Peru, you can pay in cash at our office (we accept US dollars or Peruvian soles) in Cusco. We have many ATMs within the historical center to withdraw money. You can also pay by VISA or PAYPAL online but there is a 5.5% service charge, charged by VISA and PAYPAL. To pay your balance through PAYPAL, you need to log into your PAYPAL account and use our email address glampingperutreks@gmail.com to complete the payment.
MAY I CHANGE THE DEPARTURE DATE AFTER THE TICKETS HAVE BEEN BOUGHT?
We may be able to change dates for a fee with alternative treks depending on what tickets we have already purchased. Please contact the office as soon as possible if you need to change your date.
*** If you cancel your Inca Quarry Trail to Machu Picchu , the deposit is non-refundable!
DO I NEED MY ORIGINAL PASSPORT?
Yes! You have to bring your original passport as it is very important, in order, to gain entry onto trains, Machu Picchu and other sites. You must bring the same passport that you used to book with us from the start.
In case, you are renewing your passport or changing your name, go ahead and send us your old passport information to secure your permit and we can change it when you get your new passport or have updated your name for a fee of $25 USD per person. We must have a copy of your old and new passport to make the change.
If you do not wish to pay this fee, you will need to bring both your old and new passports to Peru. You can enter Peru with your new passport but you will need to show both old and new passports to enter Machu Picchu and other sites. If you do not have both, you will not be allowed enter into these amazing sites.
WHAT ABOUT ALTITUDE SICKNESS?
In general, if you exercise regularly and spend 2 to 3 days in Cusco, or in the Sacred Valley, you will acclimate adequately. Always consult your doctor before any international travel or treks at high altitude.
We recommend the following remedies for altitude sickness: WATER, COCA TEA and OXYGEN (when needed). GPT trains all its guides to treat you for altitude sickness. For more detailed information on altitude sickness click this link: Altitude Sickness.
HIKING INCA QUARRY TRAIL TO MACHU PICCHU
The evening before you start your Inca Quarry Trail to Machu Picchu, you will be given a SMALL DUFFEL BAG to pack your clothes for the next four days. Your weight allowance is up to 7kg/14lbs. Your team of porters will carry your duffel bag for you, together with the food and camping gear. It's important to be aware, that you will not have access to your items in the duffel bag until the end of each day, as the porters will always be ahead of the group. During the trek, you need a day backpack big enough to carry your personal belongings such as a warm jacket, a rain jacket, your camera, sunscreen, snacks, water, etc. A 25 to 30L backpack is sufficient.
IS THE TREK DIFFICULT, DO I NEED TO BE FIT?
The Inca Quarry Trail to Machu Picchu is a 39 km hike through the Andes within the Cusco region. The maximum altitude reached is (4,700m/15,419ft). On the second day of the trek, we climb two mountains. The Inca Quarry Trail to Machu Picchu is a fairly difficult trek and you should be well prepared and healthy prior to starting it. You have to be moderately fit to do this trek.
In preparation: try walking 15kms a day or workout towards the months leading up to the trek. It is also important to be well acclimated to the altitude. Try to spend at least 2 or 3 days in Cusco (3,350m/11,047ft) prior to starting the trek. Consult your doctor before you leave home.
WHAT ABOUT TOILETS ON THE TREKS?
It has been highlighted by most of our clients, especially by the female trekkers, who want a bit of privacy, clean and sanitary toilet!! Glamping Peru Treks portable bathroom facilities have an individual tent and a camping toilet with a seat. Check out the picture, which illustrates how we set up our camping toilet on the trek by using this link: picture of toilet tent. Our toilets are always set up a comfortable distance from our campsite. At night, if you need to use the toilet, it is readily accessible and clean, unlike the dirty facilities supplied by the Peruvian government.
WHAT HAPPENS IF I AM UNABLE TO FINISH THE TREK?
In the unlikely scenario, that you are unable to finish the trek due to a health issue, Glamping Peru Treks will assist you to the nearest town for help with transportation. We always carry oxygen on the trek for any respiratory problems. In extreme cases, we will arrange a helicopter pick up at your own expense. (We require and recommend Travel insurance). There are no refunds in the unlikely situation that you are unable to finish the trek.
Generally, those who have to be assisted off the trail are taken to Ollantaytambo and if they recover quickly they, then, continue the journey to Aguas Calientes (cost incurred by trekker) and visit Machu Picchu, according to original plan.
ARE WE GOING TO BE DROPPED OFF AT OUR HOTEL AFTER THE INCA QUARRY TREK?
Absolutely!! Included in the package and on the last day we will drop you at your hotel! If you have booked your hotel in the Sacred Valley like Ollantaytambo or Urubamba, we will drop you there too! If you spend the night at Ollantaytambo before the Inca Quarry Trail to Machu Picchu, for sure we wil pick you up there!
AT WHAT TIME IS THE TRAIN DEPARTURE?
It depends on the train time availability (during high season it could be sold out) but the idea is to give you as much time as possible in Machu Picchu and enjoy the amazing views on the way back to Cusco while on the train. Therefore, we usually book the train at 14:55pm. With this train schedule, you will have the maximum about of time to enjoy Machu Picchu
TIPPING
If you're happy with the services provided, a tip – though not compulsory – the staff do appreciate it. While it may not be customary in your country, it's of great significance for the people who will take care of you during the tour. It inspires excellent service and is an entrenched feature of the tourism industry across many Glamping Peru Treks destinations. Of course, you are free to tip what you feel is appropriate, depending on your perception on the quality of service and the length of your tour. Remember, a tip is not compulsory and you should only give it when you receive excellent service.
ARE WE SUSTAINABLE?
Yes, we are a local, sustainable & responsible tourism operator that incorporates universal principles of tourism: protect the environment and benefit the local communities by respecting their culture and religion. With this in mind, we have trained all our local staff to know and understand, respect the places and the local people.
WHAT YOU HAVE TO TAKE WITH YOU FOR THE INCA QUARRY TRAIL TO MACHU PICCHU?
Original Passport (it has to be the same as the one used when booking your trek)
Valid University card (if you booked as a student)
Good daypack (the smaller, the better)
Water storage: 2-3L (we encourage Camelbaks).
Comfortable hiking boots with ankle support
Sleeping bag (can be rented from GPT)
Headlamp: essential
Toilet paper
WHAT TO PUT IN YOUR DUFFEL BAG FOR THE INCA QUARRY TRAIL TO MACHU PICCHU?
As a Direct Local Tour operator we provide you with a duffel bag at your briefing and INCLUDE an extra pack horse who will carry up to 8 kgs or 14 pounds including your 2.5kg sleeping bag, mattress and extra clothing.
2 t-shirts
2 hiking pants at least
4 sets of undergarments
3 sets of hiking socks
Bathing Suit for the thermal waters
Couple Fleece/ Thermals
Warm clothes, down jacket — 2nd campsite temp around 3º C.
Waterproof gloves (even if they are ski gloves, take them)
Comfortable shoes for camp
Quickdry towel. We provide small ones, you might prefer something larger.
Small bottle of soap: we provide warm water each day to wash.
Battery Charger: No electricity along the trek
Large plastic bags will be provided at the office — Please ask for them.
Sleeping bag: It has to be at least -15ºC – This can be rented from us.
Swimming Suit
TOILETRIES
Face moisturizer
Hand Sanitizer
Wet wipes
Toothbrush and paste
Personal medications
Personal First aid kit
WHAT TO PUT IN YOUR BACKPACK?
We highly recommend a small backpack 25 to 30L for hiking in the day. A big backpack will not be allowed into Machu Picchu. The remainder of your belongings will be in your duffel bag at camp.
Water: Please supply your own water until the first lunch spot, then we will provide you with cold boiled water at every meal time. Please bring reusable water bottles or a Camelback.
Sun hat
Sunscreen
Headlamp: essential
Wool hat
Rain gear
Fleece
Snacks(chocolate bars, cereal bars or any dry fruits)
Rain plastic poncho
Camera
Hand sanitizer
Toilet paper and small plastic bag for waste
Extra money for souvenirs, drinks & tips
WHY GLAMPING PERU TREKS
Small Groups
In an effort to provide a more personalized service, we at Glamping Peru Treks have a policy that our groups will not exceed 8 people.
Private Guide, Car & Driver
You always have private driver & private car flexible upon your travel schedules. Especially, in your Private Tour.
100% Personalized Itinerary
Hassle-free and uniquely personalized! You'll get a completely flexible trip plan tailored to your individual interests, wishes and budget.
Handpicked Hotels & Meals
Whether you are looking for a romantic resort or a boutique hotel, authentic cuisine or street food style; Tour Experts'll create the lifetime journey around your needs .
Camping Equipment
Our camping equipment is top of the line being replaced when needed. Our camping equipment is available for rent as well.
Environmental Sensitivit
As one of the few tour operators that dedicated itself to social responsibility. We are always looking for innovative ways of caring for our natural surroundings.
OTHER TOURS YOU MAY LIKE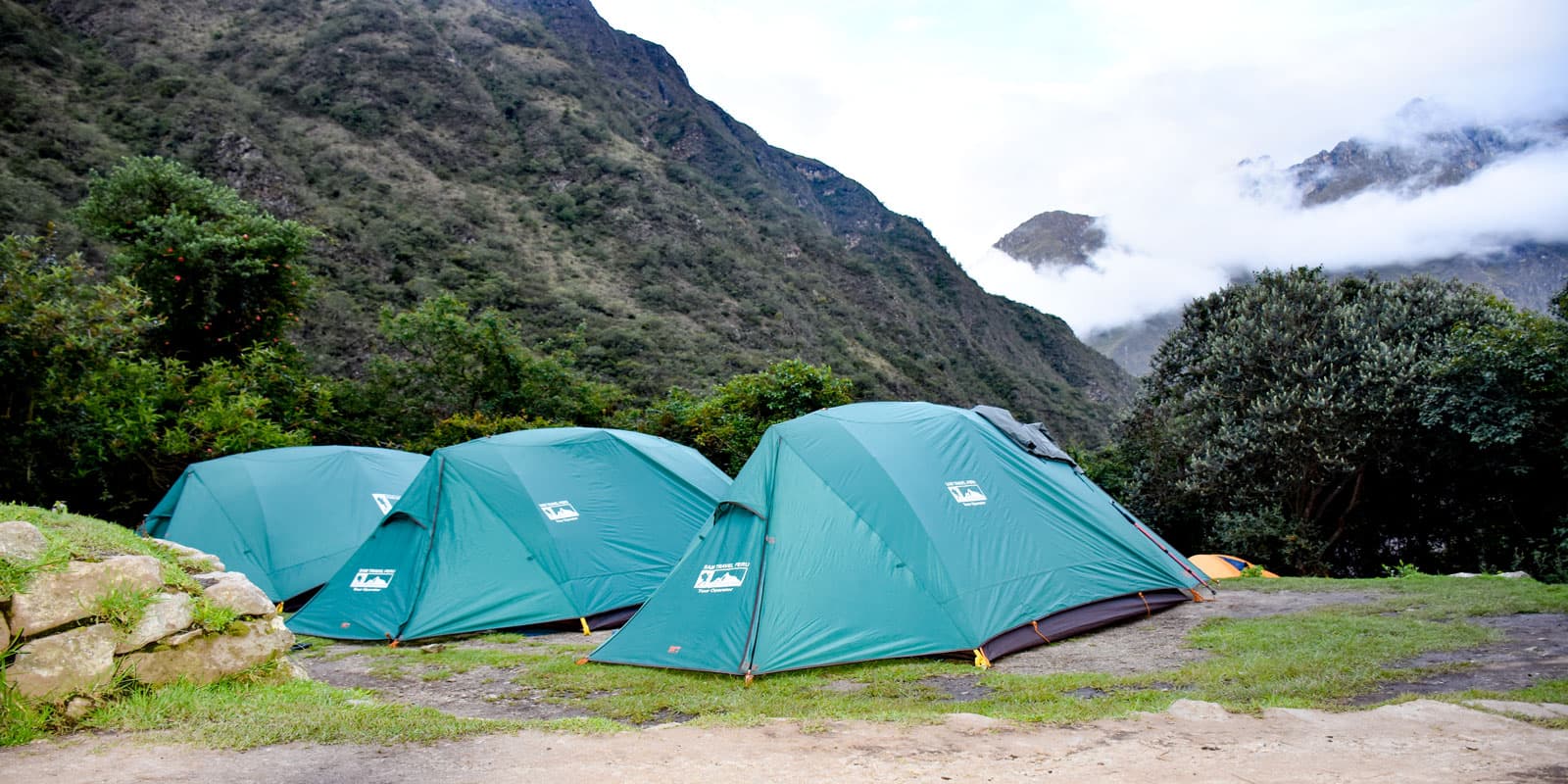 9 Days
Luxury Glamping Inca Trail Package 9 days
---
9 Days From $3777 PP
Every activity you have ever dreamed of doing in the famous City and Region of Cusco Peru is included in this complete tour. It's an all-in-one glamorous and luxurious adventure. Our amazing & authentic 9-day GLAMPING INCA TRAIL PACKAGE allows ....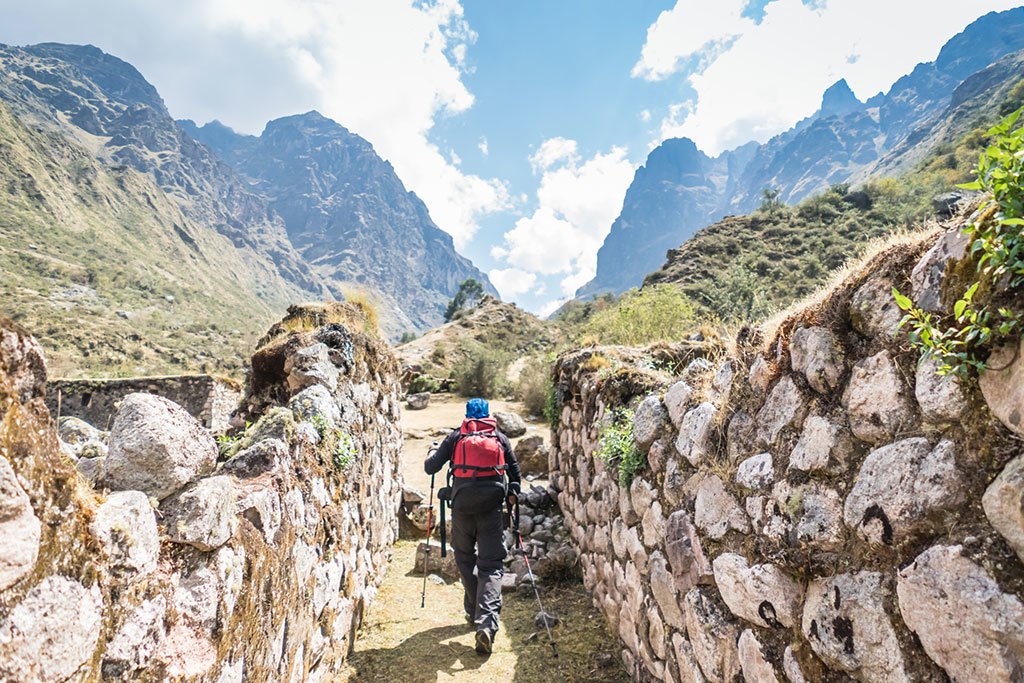 7 Days
7 Days Inca Trail Package to Machu Picchu
---
7 Days From $3577 PP
We have the best 7-day combo package for exploring the Sacred Valley, hiking the 4-day Inca Trail to Machu Picchu and enjoying the Rainbow Mountain Trek. Start your journey exploring the historical and UNESCO world heritage site city of Cusco at your....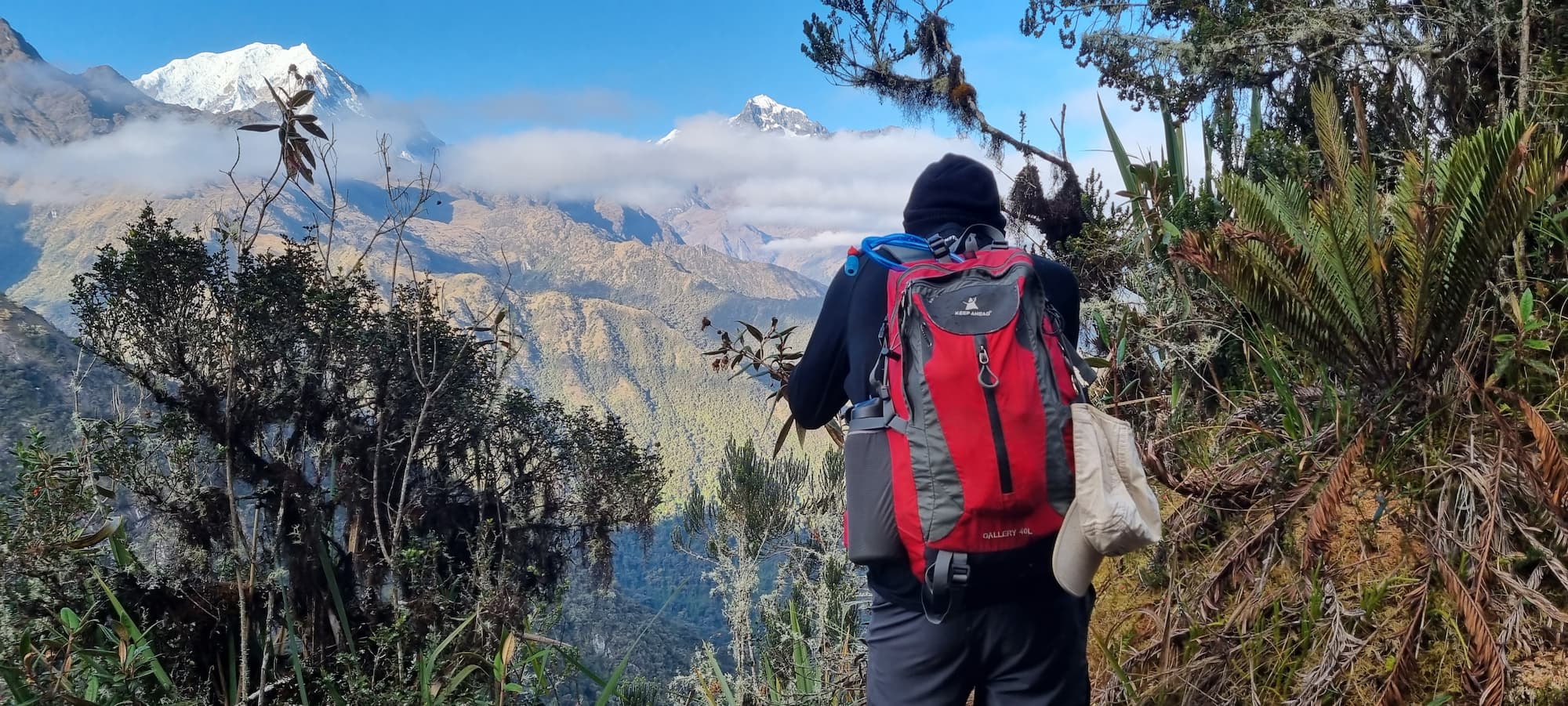 2 Days
Inca Trail to Machu Picchu 2D/1N
---
2 Days From $677 PP
This is the perfect itinerary for those who want to walk the Inca Trail to Machu Picchu, but who are short on time or who prefer hotels to camping. Highlights on the 2-day Inca Trail to Machu Picchu include the stunning Inca ruins, snow-capped mounta....