Culinary Experience of Cusco Peru
1)Desserts
Mazamorra Morada
This super popular dessert translates to purple corn pudding. Purple corn is also used to make the even more popular Chica Morada drink. Purple corn is packed with natural antioxidants; therefore, this dessert is made of a superfood. This dessert is worth a cheat day, not only will you satisfy your sweet tooth, but you also get to load up on some nutrients. The purple corn is mixed with pineapple, cinnamon and sweet potato flour. Its abundant during the purple month, celebrations held in October referred to as the Lord of Miracles.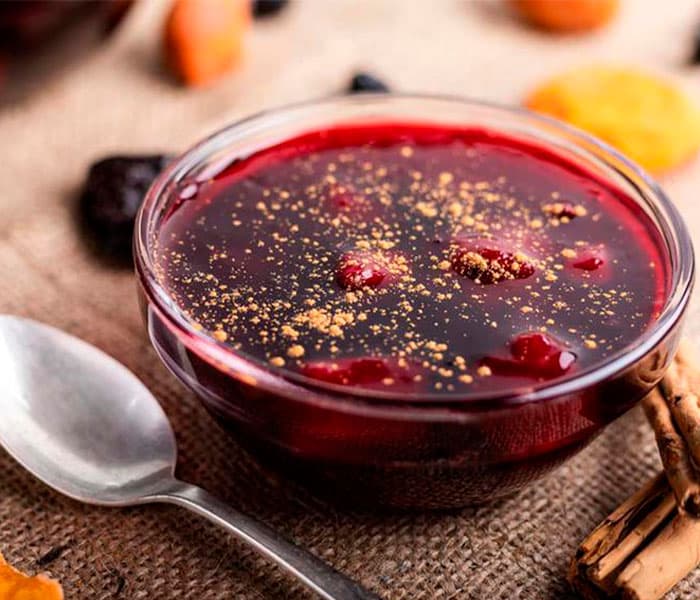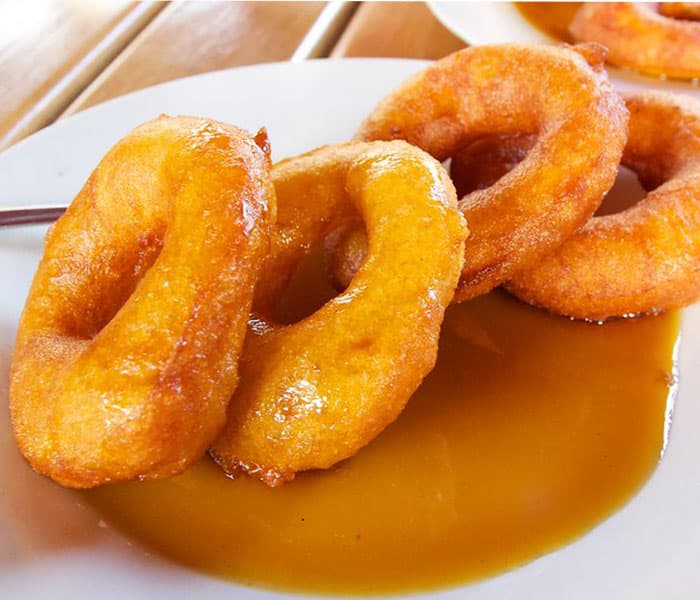 Picarones
Looks like a deep-fried ring donut. It is a classic street food of Peru; they are super cheap and can be found at most street corner from street vendors. On the hand, you can also order a serving at the trendiest restaurants or have it served as dessert when visiting someone´s home. Originating from Lima during the colonial period, as an inexpensive alternative to the Spanish buñuelos. Its super easy to make, made primarily from butternut squash and sweet potato. This is a must try.
Alfajores
This biscuit like dessert is popular all around the world. With every country having its own variation. The Peruvian version has added its own twist to it and its absolutely delectable. It's made of two buttery cookies with a dulce de leche (caramel) center filling. They come in bite size, so they can be enjoyed anywhere and everywhere.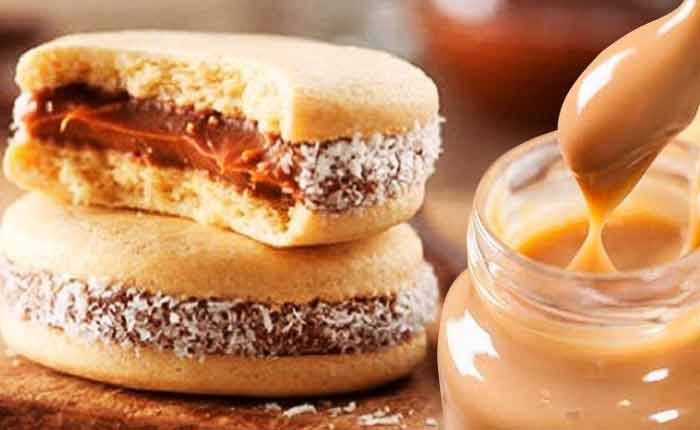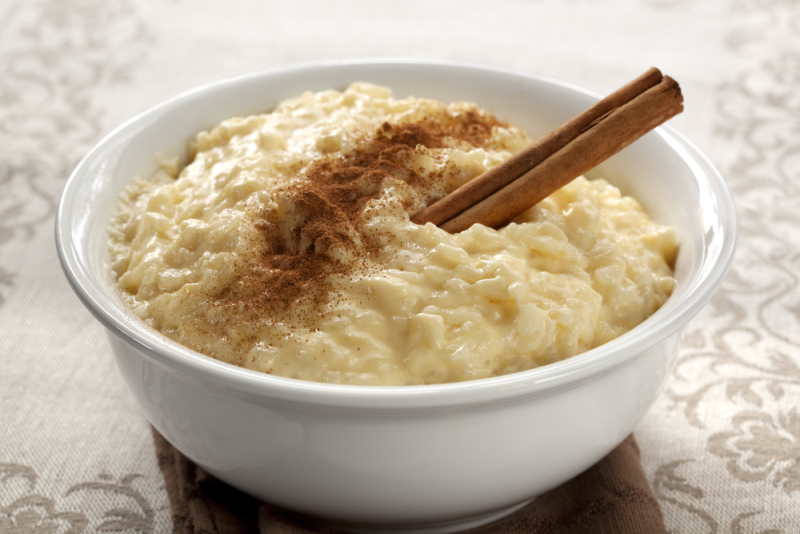 Quinoa con Leche and Arroz con leche
Quinoa with milk and rice with milk, simply put these are quinoa and rice puddings respectively. Their preparation is very similar to most rice puddings around the world. More interestingly, we look at different ways Peruvians utilize superfoods. Quinoa is an expensive superfood in most parts of the world, but for Peruvians it's a very common grain. It's used to make drinks, breads, soups and many other things including this amazing pudding. The pudding is typically mixed with cinnamon, cloves and evaporated and condensed milk.
2)Popular Peruvian dishes
Pollo a la brasa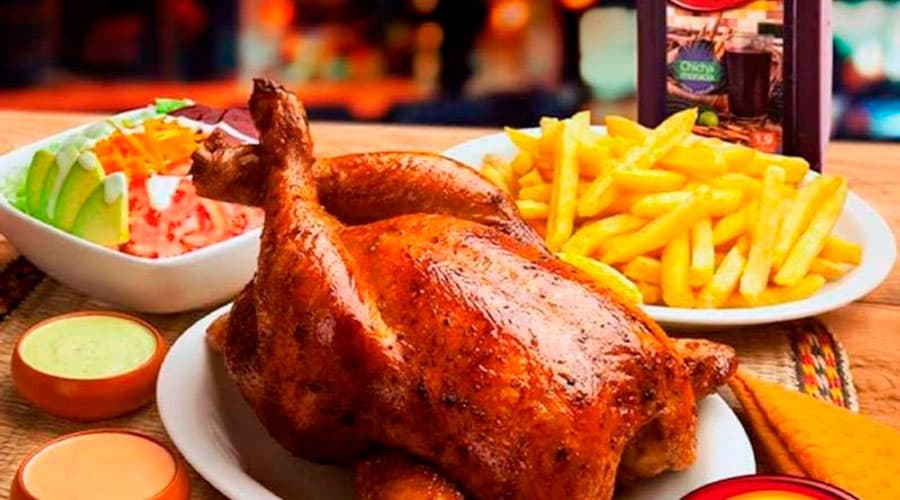 Pronounced poyo ala brasa and usually translated in English as chicken breast when translated by the locals. This happened to me on first arrival, I was invited for chicken breast by a group of locals. I arrive expecting to find a restaurant full of chicken breasts, turns out they simply meant grilled chicken. As it stands Peruvians are the biggest consumers of chicken in Latin America. It's such an important dish for them, they have set aside a holiday just for this dish, called Dia del pollo a la brasa, celebrated on the third day of July. You will find a pollo a la brasa in every corner, it always presents an easy and quick lunch, especially if you are in a rush.
Chaufa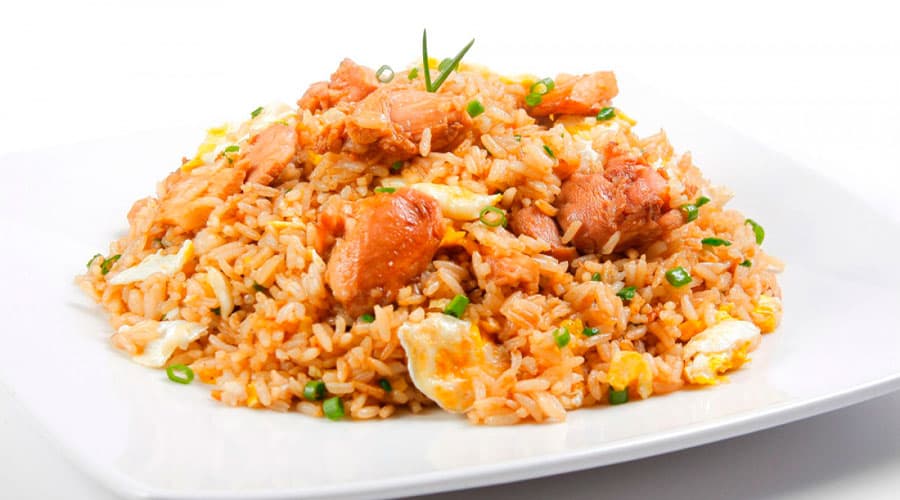 Chifa is Peruvian version of Chinese-Cantonese food. In general food in Peru has been influenced by many parts of the world like Europe (Spanish and Italian), Asian (Japanese and Chinese) and African (Maghrebi and West African). It's been described by food critic Eric Asimov as one of the most important cuisines in the world, a classic example of fusion cooking because of its long multicultural history.
Chifa came with Chinese immigrants in the late 19 th and early 20 th century. Best way to describe this variation is Chinese-Peruvian. Lomo saltado, the most popular traditional dish in Peru originated from Chinese Cuisine. Arroz chaufa is the most consumed dish. It's a Cantonese- Peruvian dish made with white rice, soy sauce, fried egg, scallions and meat (pork, chicken or beef).
Lomo saltado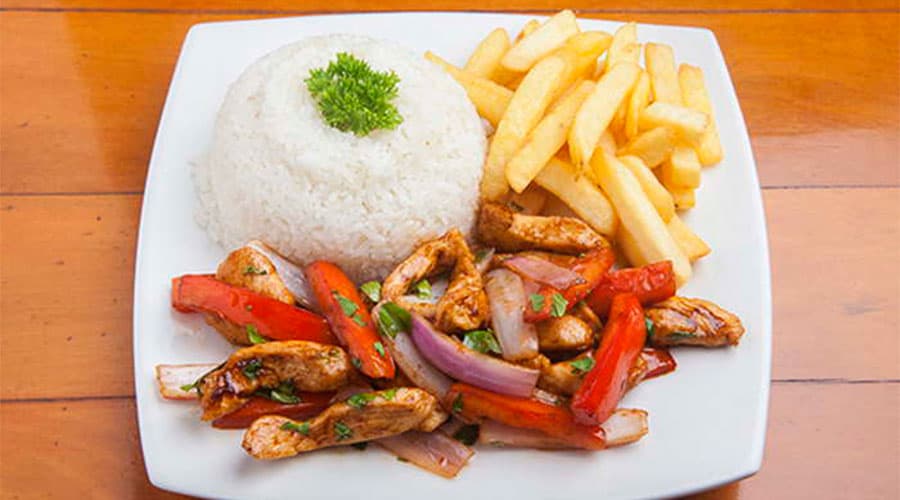 An absolute favorite, from foreigners to locals alike. It's a hearty meal made from onions, tomatoes, strips of sirloin steak, rice and chunky French fries. Its a Chinese influenced dish, using foreign ingredients like soy sauce, garlic, vinegar and beef. It's usually available in all types of restaurants around the country, from Chifa places, to local places and the most exclusive spots. It is by far the most famous dish out of Peru and its worth a sample.
Ceviche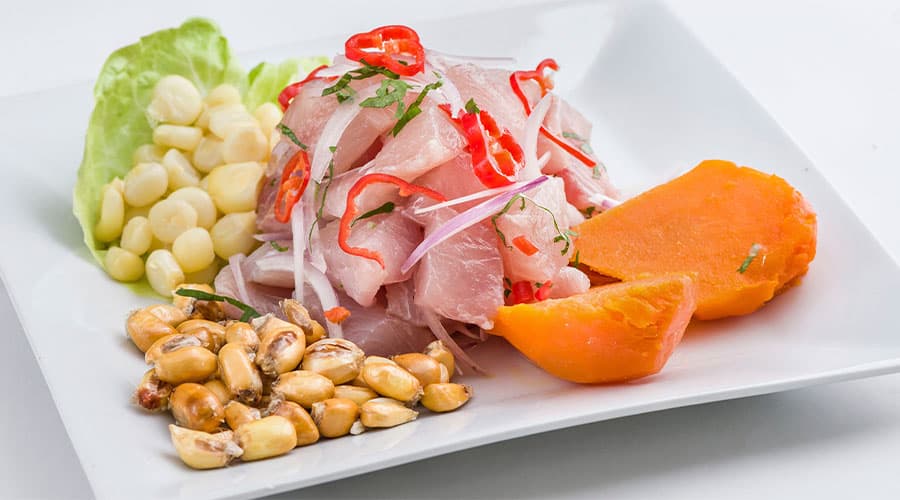 The national dish of Peru. It's a dish made of raw fish that's cured in lime. Many countries claim to have originated this dish. But research clearly points to its roots on the pacific coast of Peru, nearly 2000 years ago.
In Peru, ceviche is traditionally made with white fish like sea bass, sword fish or herring. The flavor varies, depending on the region, the type of fish used and the ingredients. Its usually light, refreshing, acidic and if you choose spicy. The accompaniments of sweet potato, corn nuts and plantain chips may seem strange, but they compliment the ceviche very well.
3)Speciality dishes

Rocoto Rellena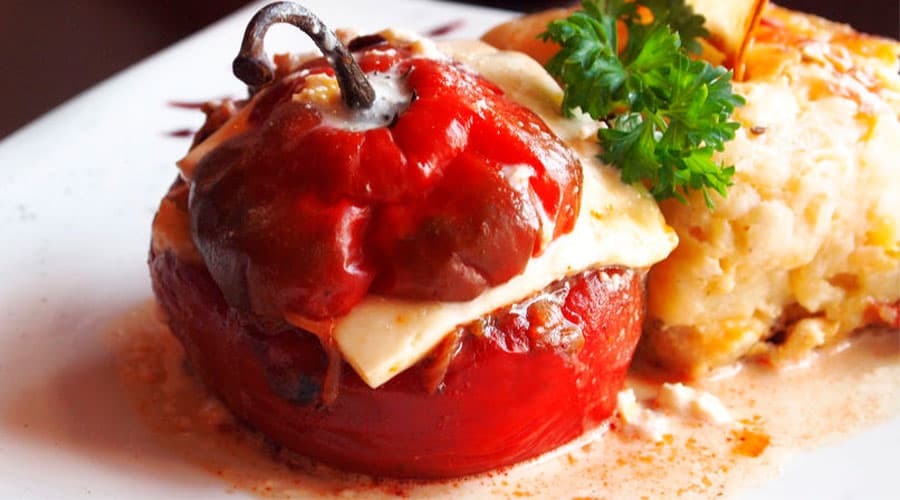 Originally from Arequipa, it´s served as a side dish in many get togethers. A stuffed pepper
dish, my favorite being the red pepper with a spicy flavor. The best rocota is made from
fire. The peppers are stuffed with minced vegetables, beef and covered with a layer of melted
layer of cheese.
Chiri Uchu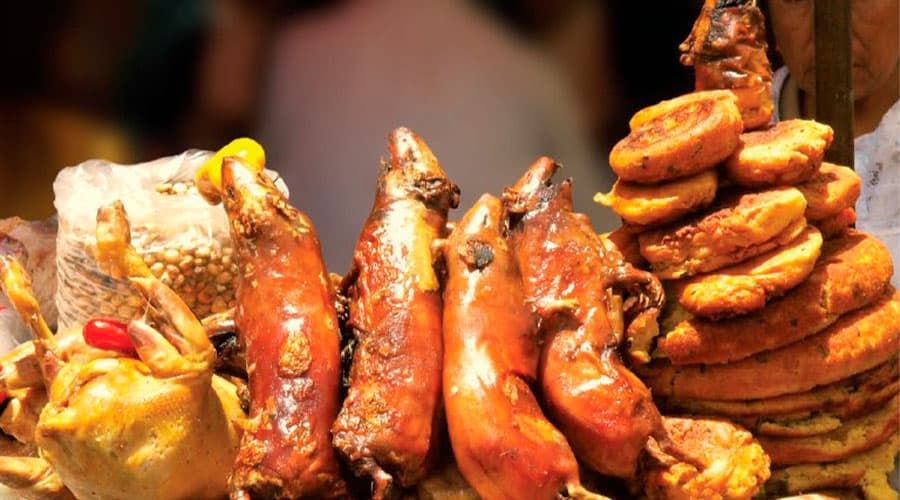 Consumed during Corpus Christi and Anti Raymi (festival of the sun). Made with guinea pig,
boiled chicken, cured meat, trout eggs, sausage, choclo (corn), cheese, chorizo, rocoto and
seaweed. Yes, it's a humongous dish, but it's really not easy to find outside of the month of
June. So, if you find yourself in Cusco around the month of June, be sure to give it a try.
Pachamanca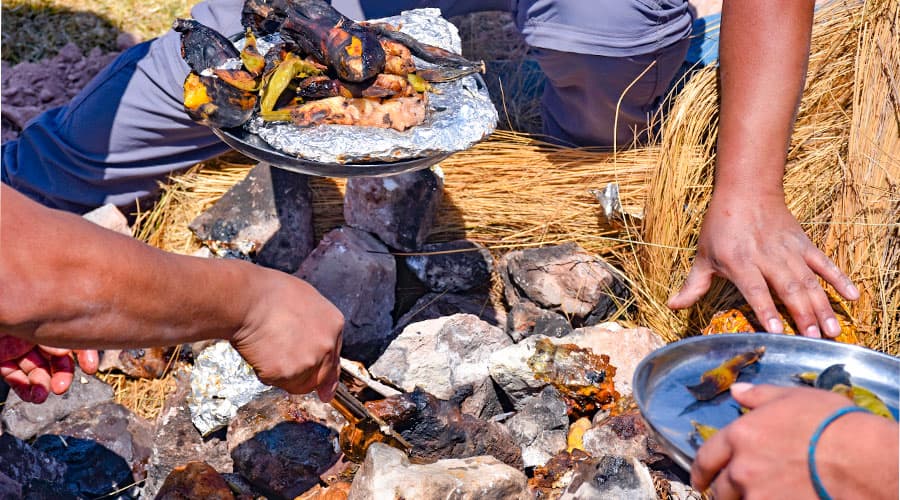 Pachamanca is a Quechua (indigenous language of Peru) word that directly translates to Pacha
¨earth¨ and Mancha ¨pot¨. It's a traditional mixed dish made from hot stones underground
and it originates back to the Inca Empire. This type of cooking has had a major ceremonial
significance to the people of Peru for many generations. It's a ritual that's regularly performed
in the highland regions. The ritual is meant to give back to Pachamama (mother earth) by
cooking the food in the earth (underground) and later when the food is ready, express
gratitude for what Pachamama has provided.
Typical potatoes used are the Yucca, the sweet potato, oka, papa peruanita and the common
white potato among others. Other ingredients may include: pineapple, fava beans, plantains
and a variety of meats like chicken, beef, pork, llama, alpaca, all depending on your taste and
preference. Lastly, herbs and spices are added to taste.
Cusco, Chinchero, Salt Mines, Moray, ATV and Pachamanca
Glamping Peru treks introduces a unique tour. A tour full of adventure, history, spirituality and a complete culinary experience. Enjoy the historical and heritage sites of Chinchero and Moray. Enjoy an exhilarating ATV ride to visit the most incredible sites of the Sacred Valley before having the opportunity to participate in the ancient sacred ritual of the Inca Empire, the Pachamanca.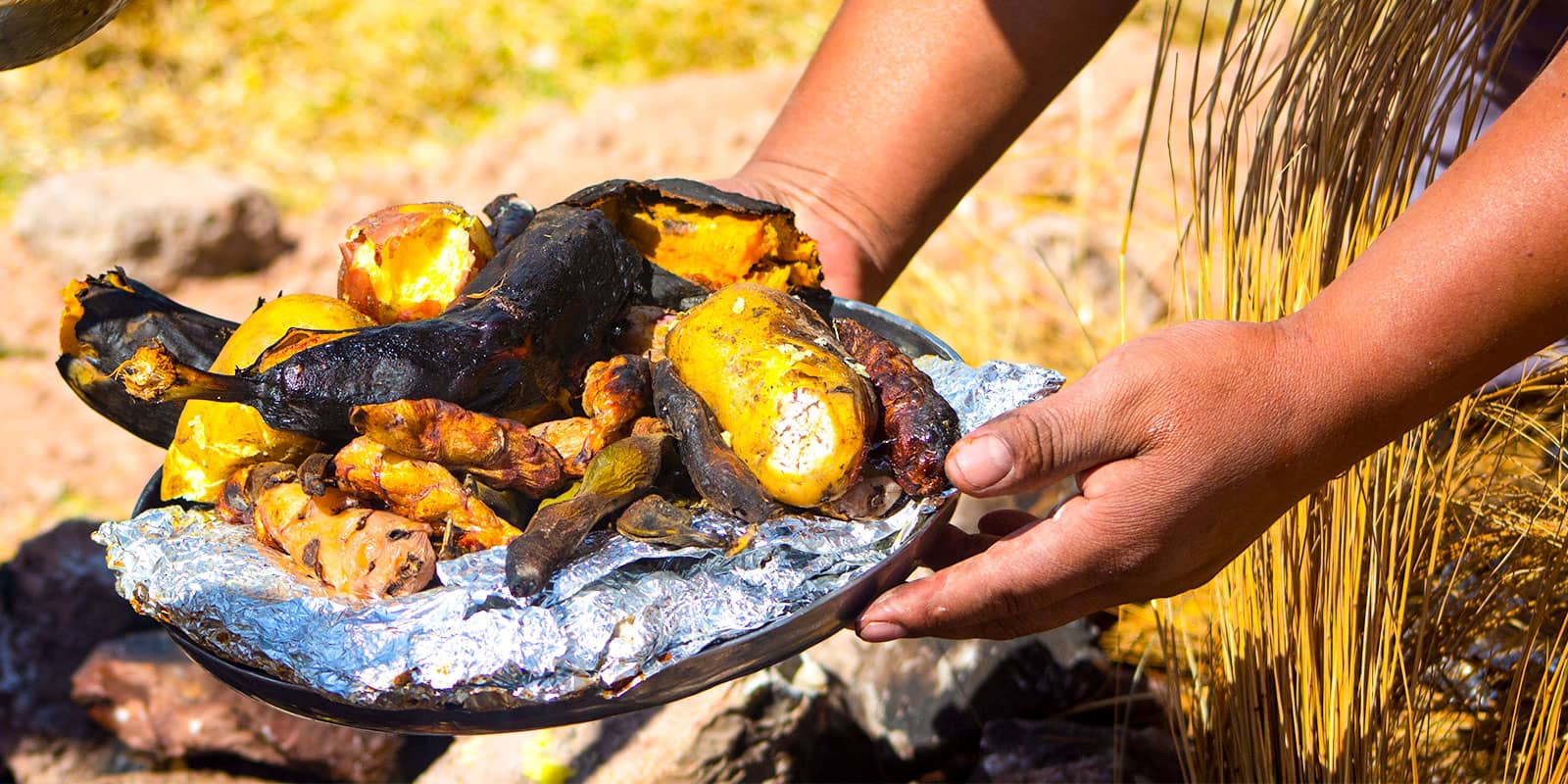 4)Drinks
Non alcoholic
Frutillada

A fermented drink made of strawberries and tastes delicious. Usually made from strawberries
found in Yucay, a small village, close the town of Urubamba in the Sacred Valley. Can be found
in most restaurants and also sold by street vendors for only about 2 soles per glass.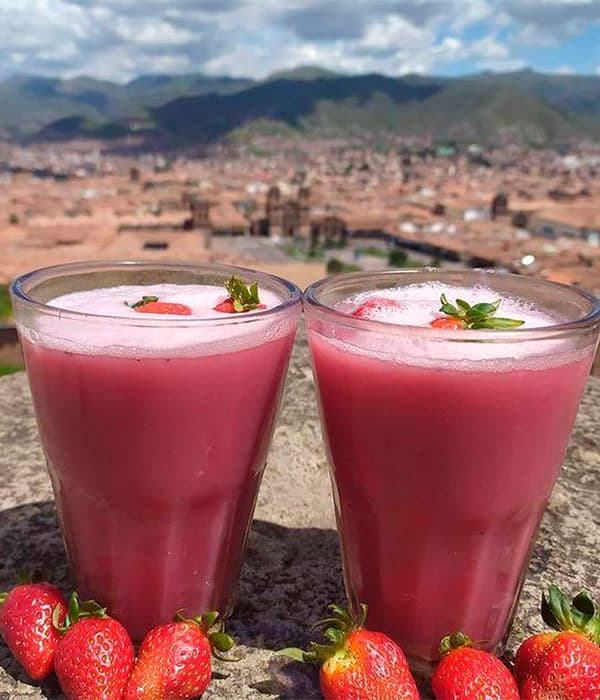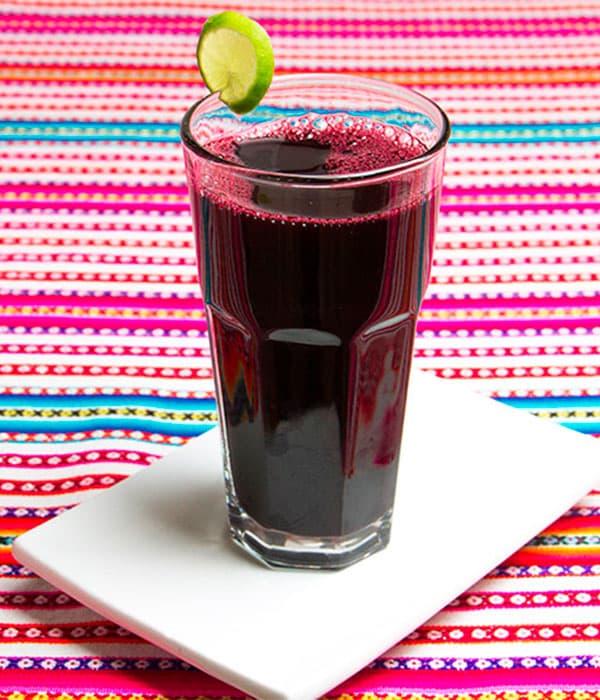 Chicha Morada

The flagship drink of Peru. It is made of purple corn. Its full of antioxidants and healing
properties. To put icing on the cake it's refreshing, has an excellent aroma and tastes amazing.
It´s 100% worth it to swap your fizzy drink habit for the delicious chicha morada.
Chicha Blanca

Yet another superfood abundant in the Andes. This drink is made of a super grain found high in
the Peruvian Andes. It's a great plant-based protein source and gluten free. It has a nutty
flavor and full of amino acids. Glamping Peru Treks serves this drink on their multiple day
hikes. There is really nothing bad to say about this drink. It tastes great and it's good for your
health.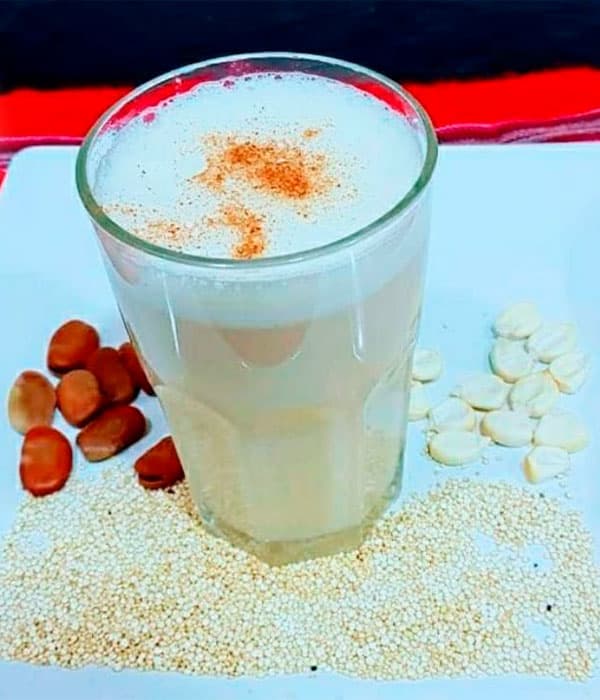 Alcoholic
Pisco Sour

I dare to say, nothing is more Peruvian than Pisco Sour. It´s celebrated on the first Saturday of
February ¨National pisco sour day¨. This tangy cocktail has been enjoyed for more than 100
years. Made from a native brandy called Pisco. Pisco comes from distilled fermented grape
juice, that creates this potent spirit. To make Pisco sour, pisco is mixed with lime, syrup, egg
whites and bitters. Join the culinary tour to learn how to make your pisco sour at home.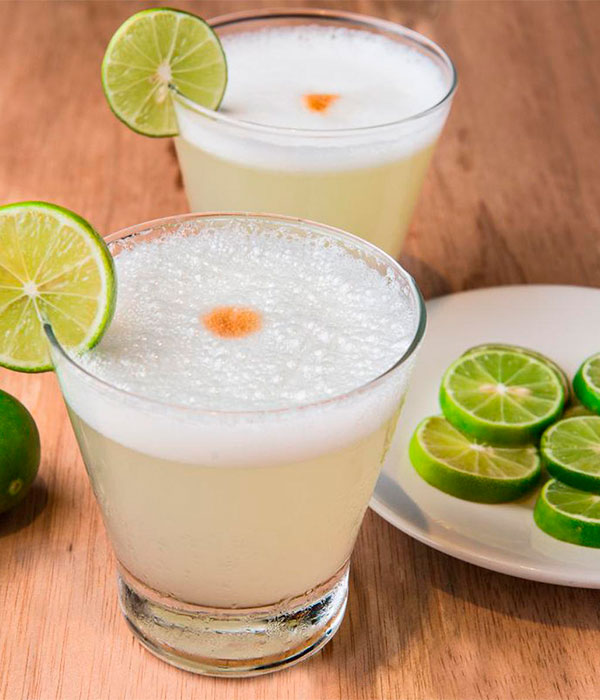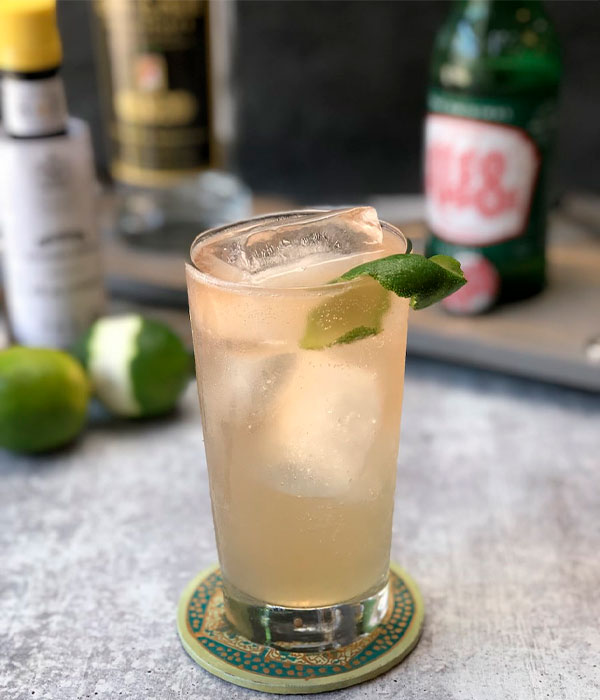 Chilcano

Unfortunately, the second most popular cocktail in Peru, but its my personal favorite, so I will
give a biased number 1. It's a simple refreshing drink, made of pisco, ginger ale, lime juice and
syrup. The best thing about a chilcano is that it can be made into made into many variations by
simply substituting the ginger ale. The most common substitutions include: lemon, maracuya
(passion fruit), apples, strawberries and cranberries.
5) Exotic meats
Alpacas
It's a red meat that extremely lean. It tastes similar to beef without the fatty deposits. Most of the exotic meats in Peru are absolutely adorable, so for some it can be a challenge to eat them. However, they are high-protein, tender and low in fat. It's the healthiest and leanest meat that has been enjoyed Pre-Inca and during Inca period.
Alpaca meat is best enjoyed in its simplest form, in a juicy tender steak, anticucho (meat skewers) or an alpaca stew. Its healthy, delicious and tender, always a good choice in a restaurant.
Llamas
They are herbivores animals like sheep, living on grass, flowering plants and shrubs. It's considered a game meat, even though no hunting is required.
Llamas make the best burgers and kebabs. This meat is rare, so take advantage if you ever get this once in a life time opportunity.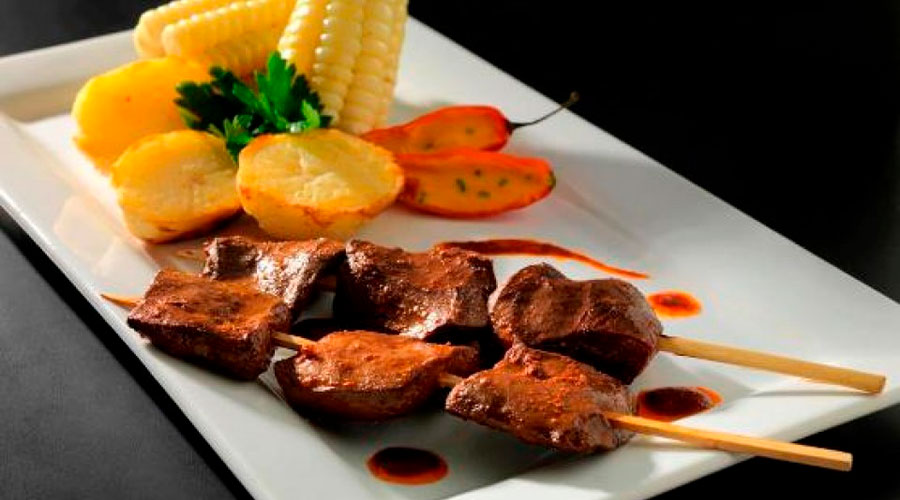 Cuy
The cute guinea pig was declared a native species of Peru. It is a delicacy. They are adorable animals and can be hard to eat. But the meat is so mouth-watering, the guilt fades away fast. It is in no way related to the pig, but is actually related to a rodent called the cavy.  The meat is on the pricy side, but it is something you want to try at least once. Its best served with potatoes and salsa.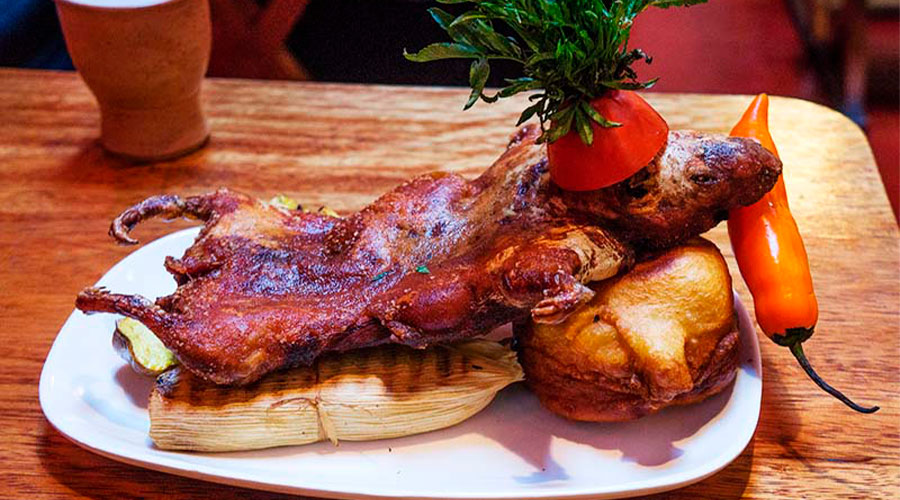 Lechon
An oven-roasted baby pig that melts in your mouth. The meat is tender, flavorful, with crispy skin. You compare them to mutton v lamb, lechon being the lamb. You can find it in many more upscale local restaurants or during holidays
6)Soups of the Cusco Region
Peru is nearly always ranked number one of the top culinary destinations in South America. With influences from their many different climates and cultural mix, from Lima to Cusco.
Cusco is a region known for many things, most famously the great Machu Picchu. However, their cuisine is world renowned, giving birth to some the world´s most famous chefs like Gaston Acurio and Virgilion Martinez among others. In this blog we focus on the variable and very distinct soups offered in Cusco. We have included soups like aguadito de pollo, caldo de gallina, sopa de quinua, sopa a la minuta, adobo de cerdo and the adventurous caldo de cabeza.
Peruvian soups are always guaranteed to be packed full of flavor. Their broths are slowly simmered with vegetables, herbs and spices. You will find these creative concoctions in many restaurants around town. Glamping Peru Treks during their multiple day hikes, serve a variety of these rich, heartwarming and freshly made soups as part of their multiple course meals. Ask for a side of Aji if you enjoy a bit of a kick in your food.
This blog is far from exhaustive, the food in each region of Peru is unique and focuses on different ingredients and flavors.
Aguadito de pollo
A cilantro soup that can be served with any protein of your choice. It normally comes with chicken. Other ingredients include vegetables and rice. A good soup to have if you have a hangover or a after a late night.
Caldo de Gallina
Peruvian always make a distinction between hen and frozen chicken. This is hen soup served with a boiled egg, ramen. 2 types of potatoes and a rich and succulent broth.
Sopa de Quinoa
A vegetarians dream. The main ingredient is quinoa, mixed with potatoes. It's a delectable soup full of nutrients. Quinoa is the mother of all grains. This soup doesn't disappoint in flavor, nutrients and texture.
Caldo de Cabeza
So essentially you are eating half a sheep head in broth. Not for the faint hearted, an adventurous local experience. Nothing is taken out, the brains, ears and eyes are all still in there. If have the daredevil side in you, then go for it. It is tasty, seasoned with local herbs and spices.
7) Best Vegetarian and vegan spots
green point
contains local contamporary cuisine, with a modern fusion
Chia Vegan Restuarant
Serves organic vegan good. They have pizzas, soups and even thai food.
Organika
Enjoy traditional peruvian fare thats organic, gluten-free and medicinal. The best thing about this place is that you get to enjoy the classic Peruvian dishes without the meat.
Rucula
Local Peruvian dishes. Good for breakfast, lunch, dinner and those late nights.