Detailed Itinerary
Additional Information
WHAT IS INCLUDED
Luxury Accommodation: We book one night luxury accommodation for you in Aguas Calientes.
Extra Private porter: This is an exclusive service offered by Glamping Peru Trek. We have a porter to carry your backpack on the hike to Machu Picchu. Back should be between 30L and 40l , nothing bigger is allowed at Machu Picchu or the train.WHAT IS INCLUDED IN THE LUXURY 3 DAY SACRED VALLEY AND SHORT INCA TRAIL TO MACHU PICCHU PACKAGE?· A hand-crafted and fully personalized Premium Package from start to finish.

Briefing: We give you all the information needed in order for you to have a pleasant trek with very little surprises. The best part is that we will conduct your briefing in the comfort of your hotel.
Door to door service: The day of your trek we will pick you up at your hotel in Cusco. On return we will drop off at your hotel in Cusco.
3 Bus tickets and 2 Train Tickets: First train is from Ollantaytamb to Km104 (the starting point for your trek). We include a bus ticket to the nearby town of Aguas Calientes where you spend the night. The next morning you catch the bus again to watch the sunrise over Machu Picchu. After your privately guided tour of Machu Picchu you get back on the bus ,to catch the Train to Ollantaytambo. Glamping Peru also includes the spectacular Vistadome train with leather seats designed to conform to your body. This train has the best views of valley, mountains and river decorating the landscape as you make your way back to Ollantaytambo.
Entrance Tickets into Machu Picchu and the Inca Trail: As soon as you confirm your booking and pay the deposit, we purchase your permit into the Inca Trail and your entrance ticket into Machu Picchu. These tickets sell out very fast. Our super team behind the laptops ensure that all tickets and permits are purchased timeously and you don't miss out on your great adventure. The personal information you give us has to be 100% accurate because even our awesome team won´t be able help edit details once they have purchased the tickets on your behalf and there are absolutely no refunds on the tickets.
Boleto Turistico : This is the best way to visit all the archeological sites of the region and the Sacred Valley. Most of the main archeological sites are not accessible for free.
Professional Bilingual Guide: You will have a guide that is highly professional, experienced and fluent in English guide throughout the trek. They are very knowledgeable and passionate about Inca heritage and history. You will get a two hour fully guided tour of Machu Picchu. Our guides dedicate themselves to continuous professional development and growth to ensure that you receive accurate and recognized theories about Inca and Andean culture. They are fun loving, great sportsmen and well–educated, they hold a degree in at least one of the following: Archaeology, Tourism, Botany, History or Anthropology.
Meals: You will recieve a scrumptious box lunch and then dinner at Aguas Calientes. A buffet breakfast is served the next day at your hotel.
Water: We supply bottled water for drinking on arrival at the checkpoint and again at lunch time at the campsite on Day 2. Make sure you fill up your canteen or camel bac in case you need extra water.
Taxes: All prices include the 18% tax charged by the government

Luxury Amenities and Equipment:
Luxury Accommodation: We book one night luxury accommodation for you in Aguas Calientes.
Extra Private porter: This is an exclusive service offered by Glamping Peru Trek. We have a porter to carry your backpack on the hike to Machu Picchu. We advise the backpack to be between 30L and 40l , nothing bigger is allowed at Machu Picchu or the train.
Drinks: In our private transportation, you will find a cooler box stocked with ice cold drinks, both non-alcoholic (water, gatorade etc..) and alcoholic (beer, wine and more)
WHAT IS NOT INCLUDED
Hotel – optional upgrades
Huayna Picchu Tickets: $75 USD per person
Machu Picchu Mountain: $75 USD per person
Tips for your guide
ADDED VALUES FOR FREE
Transfer from the airport to hotel: (Cusco area only).
***The Sacred Valley & Short Inca Trail to Machu Picchu tour is available on any date that is best for you (except in February when it is closed for maintenance).
This trek still takes you into Machu Picchu by walking through the SUN GATE, you will get to explore some amazing Incan ruins along the way like Wiñay Wayna Incan site.
PRICES:
$927 USD per person with 1 night 4* hotel and 1 night glamping
***All entrance fees are included and we operate our tours in small groups averaging 4 people with a maximum of 8!
IMPORTANT INFORMATION
Please read the following information carefully. It will help answer all of your questions about our services and Sacred Valley & Short Inca trail To Machu Picchu Package
ARRIVAL TO CUSCO
We welcome you at the airport in Cusco and take you to your hotel. Please ensure that you inform us of your full flight details at least 14 days prior to your trek. Look out for our representative holding a Glamping Peru Treks sign at the arrivals terminal.
THE BRIEFING
It will take place the night before the trek in the comfort of your hotel.
CAN I STORE MY LUGGAGE AT YOUR OFFICE
Of course! During the Sacred Valley & Short Inca trail To Machu Picchu Package your main luggage can be store at our office or at your hotel, both are free.
HOW TO BOOK
FIRST, to book your Machu Picchu Tours, we need you to fill out our booking form by clicking on BOOK NOW on our homepage or click the link BOOK NOW.
Please be ready with the following information (FROM EACH PARTICIPANT in your group). We cannot purchase an Inca trail permit, entrance to Machu Picchu or the train without the following information:
Personal information (your full name, exactly as it appears on your passport):
Gender
Passport number
D.O.B. (dd / mm / yyyy)
Nationality
SECOND, we require a deposit of $525.00 USD per person in order to purchase your entrance to Machu Picchu and train ticket.  You can make your deposit by clicking on the VISA or PAYPAL symbols on the top of our home page, or you can click on the VISAor PAYPAL symbols on our booking page.
HOW DO I QUALIFY FOR THE STUDENT DISCOUNT?
According to Peruvian Law, you must be under 18 years of age at the time of your trek, tour, or visit to Machu Picchu (students 18 & above need valid student cards). For example: if you book a trek at the age of 17 but you turn 18 before you do your trek, you do not qualify for a student discount.
All students between the ages of 11 and 17 years, the discount is $30.
For children aged between 2 and 11 the discount is $40.
Children under the age of 2 are free.
All students must provide a copy of their passport at the time of booking to get the student discount.
Send us a copy at glampingperutreks@gmail.com
WHAT ABOUT THE REMAINING BALANCE?
To avoid the excessive credit card fees in Peru, you can pay in cash at our office (we accept US dollars or Peruvian soles) in Cusco. We have many ATMs within the historical center to withdraw money.  You can also pay by VISA or PAYPAL online but there is a 5.5% service charge, charged by VISA and PAYPAL.  To pay your balance through PAYPAL, you need to log into your PAYPAL account and use our email address glampingperutreks@gmail.com to complete the payment.
MAY I CHANGE THE DEPARTURE DATE AFTER THE TICKETS HAVE BEEN BOUGHT?
Unfortunately, the answer is No. Once the tickets have been bought the government does not allow any changes. We can't change any departure date after the tickets have been bought. Tickets are also not transferable nor refundable.
*** If you cancel your Machu Picchu Tour, the deposit is non-refundable!
DO I NEED MY ORIGINAL PASSPORT
Yes! You have to bring your original passport as it is very important, in order, to gain entry onto the Inca Trail to Machu Picchu and other sites.  It must be the same passport that was used to book with us from the start. 
In case, you are renewing your passport or changing your name, go ahead and send us your old passport information to secure your permit and we can change it when you get your new passport number or have updated your name for a fee of $25 USD per person.  We must have a copy of your old and new passport to make the change.
If you do not wish to pay this fee, you will need to bring both passports to Peru with you.  You can enter Peru with your new passport but you will need to show both old and new passport to be able to enter Machu Picchu or board the train.  If you do not have both, you will not be allowed to enter Machu Picchu or get on the train.
WHAT IS THE WEATHER LIKE IN THE SACRED VALLEY & SHORT INCA TRAIL TO MACHU PICCHU
The weather is very unpredictable and it's difficult to foresee. We recommend to always dress in layers as it makes it is easier to adjust to the different micro-climates.
ALTITUDE SICKNESS
In general, if you exercise regularly and spend a couple of days in Cusco or the Sacred Valley, you will be able to acclimate normally. It usually takes the body between 24 to 48 hours.
TIPPING
The recommended remedies for altitude sickness are: hydration, coca tea and oxygen. Our guides all carry oxygen and are trained to treat you for Altitude Sickness. We offer the Cusco City or Sacred Valley Tours that you can book while you are acclimating to the altitude. Check out our Day Tours on our homepage.
If you're happy with the services provided, a tip – though not compulsory – the staff do appreciate it. While it may not be customary in your country, it's of great significance for the people who will take care of you during the tour. It inspires excellent service and is an entrenched feature of the tourism industry across many Glamping Peru Treks destinations. Of course, you are free to tip what you feel is appropriate, depending on your perception on the quality of service and the length of your tour. Remember, a tip is not compulsory and should only be given when you receive excellent service.
ARE YOU SUSTAINABLE?
Yes, we are a local sustainable & responsible tourism operator that incorporates universal principles of tourism: protect the environment and benefit the local communities by respecting their culture and religion. With this in mind, we have trained all our staff to know, understand and respect the local places and its people.
What should I take pack for the "Sacred Valley & Short Inca trail To Machu Picchu
Passport (it has to be the same as the one used when booking your trek)
Good daypack (the smaller, the better)
Water storage: 2-3L (Camelbaks are encouraged)
Comfortable hiking boots with ankle support
Toilet Paper
2 t-shirts
1 hiking pant
Undergarments
Hiking socks
Polar or sweater
Jacket if cold season
Waterproof gloves – rainy season
Large plastic bags will be provided at the office — Please ask for them
Face moisturizer
Hand Sanitizer
Wet wipes
Toothbrush and paste
Personal medications
Sun Hat
Sunscreen
Wool Hat if cold season
Rain gear – rainy season
Snacks like chocolate bars, cereal bars or any dry fruit
Rain plastic poncho
Camera
Extra Money for Souvenirs, Drinks & Tips
WHY GLAMPING PERU TREKS
Small Groups
In an effort to provide a more personalized service, we at Glamping Peru Treks have a policy that our groups will not exceed 8 people.
Private Guide, Car & Driver
You always have private driver & private car flexible upon your travel schedules. Especially, in your Private Tour.
100% Personalized Itinerary
Hassle-free and uniquely personalized! You'll get a completely flexible trip plan tailored to your individual interests, wishes and budget.
Handpicked Hotels & Meals
Whether you are looking for a romantic resort or a boutique hotel, authentic cuisine or street food style; Tour Experts'll create the lifetime journey around your needs .
Camping Equipment
Our camping equipment is top of the line being replaced when needed. Our camping equipment is available for rent as well.
Environmental Sensitivit
As one of the few tour operators that dedicated itself to social responsibility. We are always looking for innovative ways of caring for our natural surroundings.
OTHER TOURS YOU MAY LIKE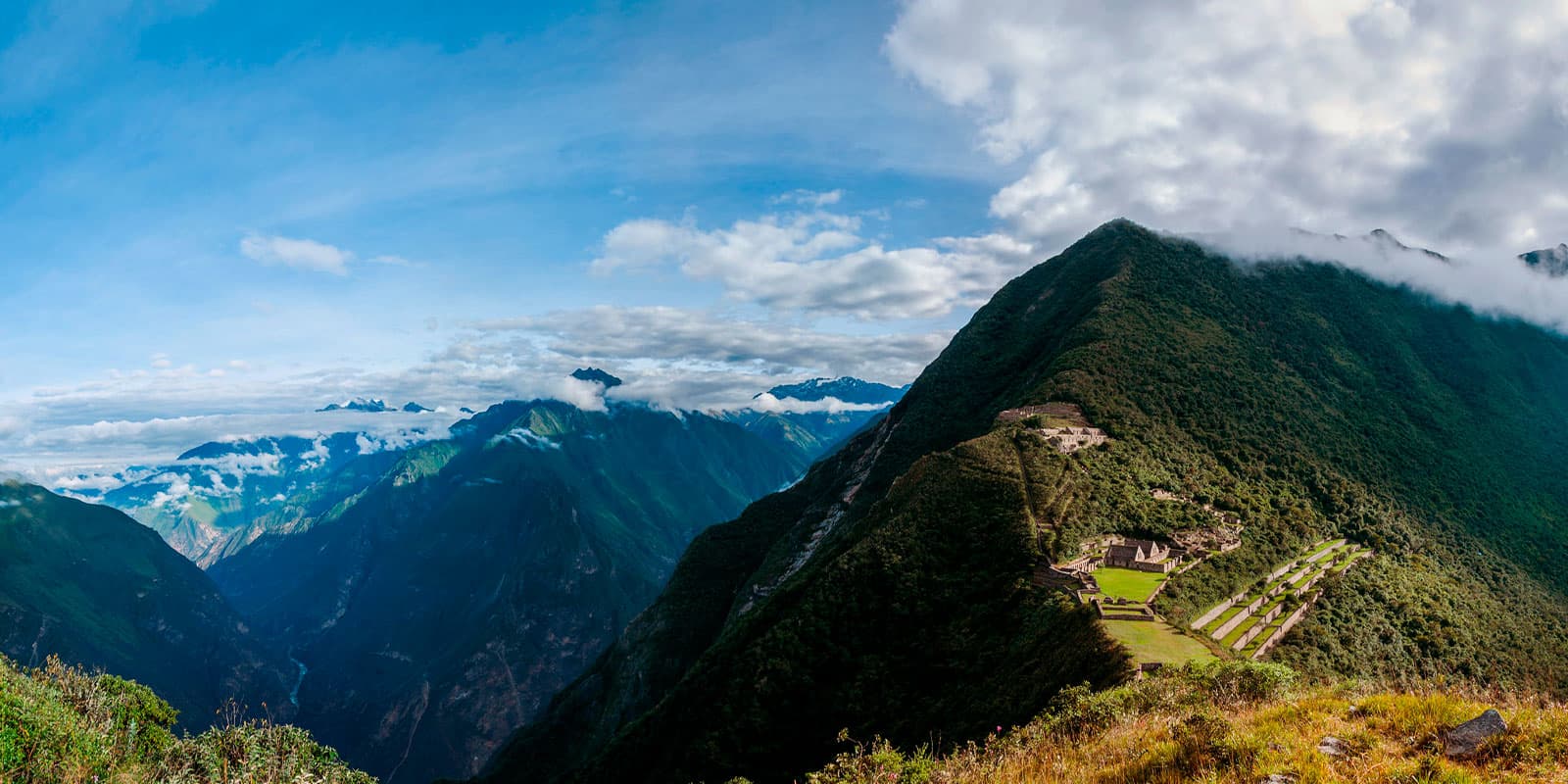 5 Days
Choquequirao Trek 5 days
---
5 Days From $1777 PP
The name Choquequirao means "Cradle of Gold." Located above the raging, glacier-fed Apurimac River, surrounded by towering snow-capped peaks and seated on a high ridge, Choquequirao is a remote and rarely visited ¨Lost City of the Incas.¨  Th....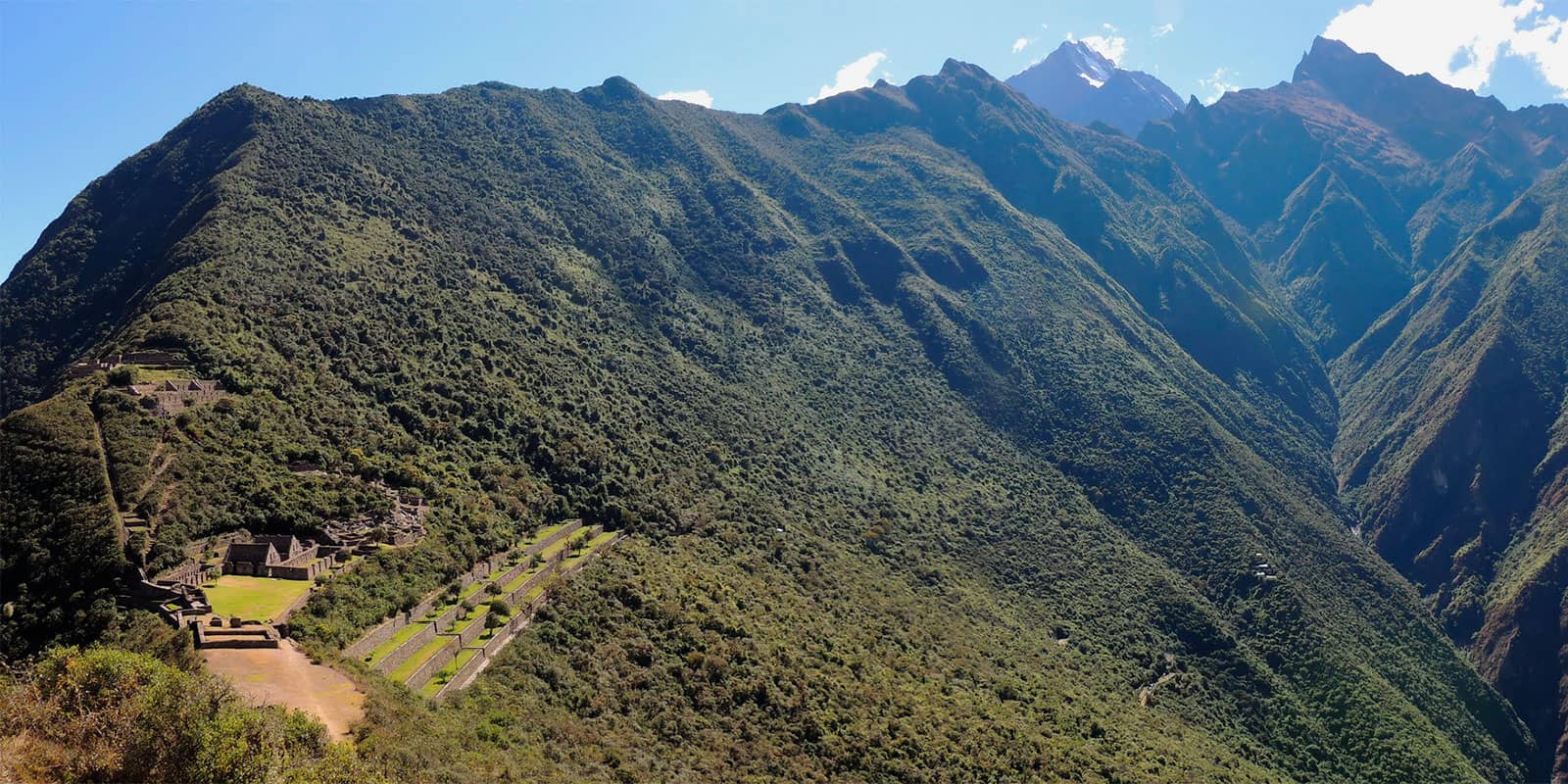 7 Days
Choquequirao to Machu Picchu Trek 7 Days
---
7 Days From $2577 PP
Glamping Peru Treks, as a specialist in trekking OFF the beaten track, has the best designed itinerary in which you will visit the 2 most important Inca cities of the Cusco region: Choquequirao and Machu Picchu. We include the hike up to Llactapata w....

2 Days
Private Sacred Valley & Machu Picchu Tour 2 Days
---
2 Days From $657 PP
Cusco may have been the capital of the Inca Empire and called the navel of their world, but the Sacred Valley was the heart. Only about 15kms/9.3 miles north of Cusco as the condor flies, the Sacred Valley brings you the most important Inca sites b....